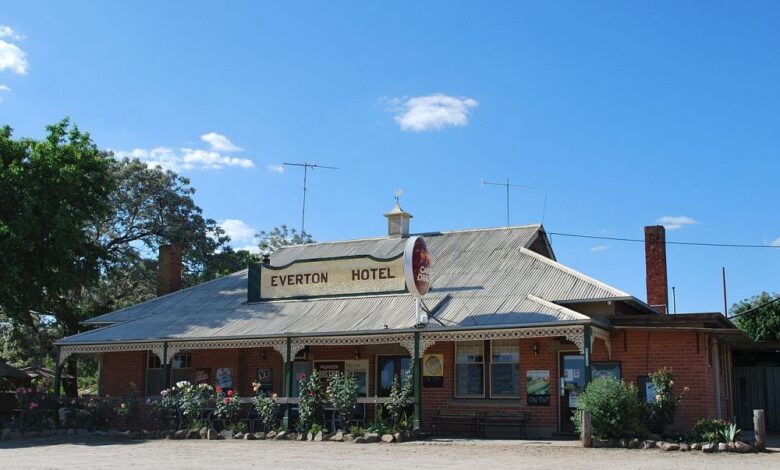 It's a thriving business situated in a grand slice of the Australian landscape, surrounded by sublime vistas and some of Australia's most popular wineries.
If you're looking for a tree change and a wonderful business opportunity, the Everton Hotel in north-eastern Victoria ticks a lot of boxes with a flourish.
Established in 1918, the Everton Hotel is located 16km from the majestic old gold town of Beechworth, with its enticing colonial architecture, and 14km from Milawa, home to Brown Brothers and many other wineries. Many cellar doors are open seven days in the King Valley, some having their own restaurants with a distinct Italian flavour.
Everton and the King Valley are in the heart of Ned Kelly country, and the rugged landscape and stunning vistas where the bushranger once kept a lookout for police troopers are part of the fabric of Australian history.
Everton is also just 75km from the Murray River and its attractions at Albury/Wodonga and 105km from the Mt Hotham snowfields.
The leasehold for the Everton Hotel – on sale for offers above $375,000 – represents a wonderful opportunity to run a successful business in a prime King Valley location.
The hotel is a modern and completely refurbished country bar venue located in the heart of a popular tourist destination with weekend visitors aplenty from Melbourne, just two and half hours away.
Other popular tourist destinations such as Bright and Myrtleford are close by.
Ian McDonald, from McDonald Hospitality Brokers, said the owner of the Everton Hotel "had spent a lot of money on it doing it up" and that it offered a 22-year lease at $39,646 per annum.
"The Everton Hotel is very impressive. For what it can turn over the rent is very reasonable," Mr McDonald said.
"It's in a great location in a lovely part of the world, surrounded by beautiful historic towns and great wineries. It represents a terrific business opportunity
"Hotels in surrounding areas are doing a roaring trade."
Mr McDonald said the hotel came with a tastefully renovated and refurbished public bar area, new plant and equipment throughout, a fully functional commercial kitchen and six refurbished hotel rooms with queen beds.
It sits on about one acre (4000 square metres) and is ideal for free camping and there is plenty of room for outside and inside entertainment.
Mr McDonald said there was also a large beer garden with seating for about 100 patrons and that the hotel was able to hold large functions for up to 145 people.
The Everton area is also popular with classic car enthusiasts on country drives and the hotel offers them secure parking.
It is also said to be the only pub on the Rail Trail catering for cyclists.
In recent years, the King Valley has become renowned for its wine and gourmet food.
There is an imaginative use of alternative grape varieties by winemakers who long ago recognised the region's cool-climate potential.
The Everton Hotel has benefitted by the booming visitor interest in the popular region.
Find the business listing details HERE.