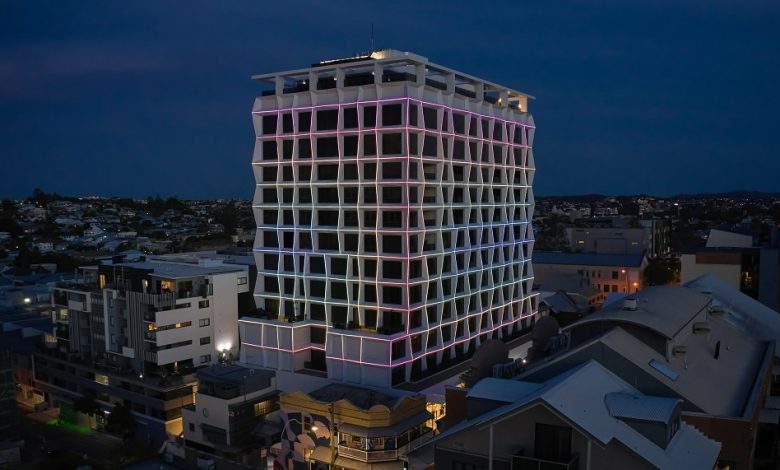 News
Brisbane's Hotel X – daring and distinctive
New illuminating accommodation experience for Fortitude Valley
Complete with a show-stopping beacon of light towering high above the 'Valley', at night, Hotel X is the newest 5-star hotel and lifestyle destination on the  Brisbane accommodation scene.
Launched at the beginning of 2021 by InterContinental Hotels Group (IHG) and Queensland-based developers Pointcorp, Hotel X's unforgettable façade cannot be missed at night due to its unique first-of-its-kind lighting system, that plays on the hub's artistic candour and eccentricity.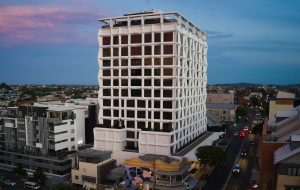 The distinctive name of this highly anticipated Brunswick Street 146-bedroom hotel development absolutely 'owns' its luxurious X-factor design and identity but the "X" also quite literally 'marks the spot' of its prime location.
At night the façade of Hotel X summons visitors to this neighbourhood, with the property sitting in prime position between Howard Smith Wharves and the boutiques of James Street.
General Manager, Daniel Moran eloquently describes Brisbane's newest 5-star offering as being all about the unexpected, the uninhibited and the undeniably indulgent.
"It is a cocktail of thrills in the beating heart of Brisbane, expect a 24-hour feast for your senses, with unexpected touches at every turn," he says.
The hotel's most distinctive feature is the white geometric façade which has an industry-first 3.5km custom lighting system.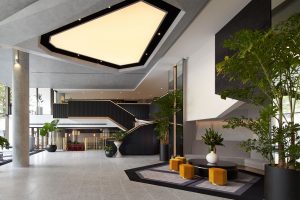 Impressively it lights up Fortitude Valley's night sky and acts as a beacon amid the famed nightlife strip. Indeed, everything about this building celebrates this iconic neighbourhood, alongside showcasing some of the most exceptional views of Brisbane city.
On its launch Pointcorp Director, Chris Vitale said Hotel X is a transition that extends beyond a physical space as a hotel to a superior experience for a like-minded community.
"The space celebrates the liveliest aspects of Brisbane – the nightlife, music, art, fabulous food, and long balmy evenings. Our proximity to the bustling streets and alleyways of Brisbane's centre encourages whimsy adventure, and nights you won't forget."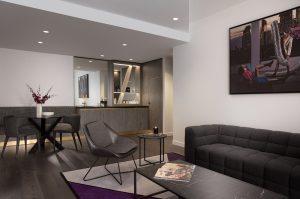 Hotel X's architecture and façade can be described as daring and distinctive, but the property's cool and classy urban interiors also impress. The design has been imagined with a contemporary colour palette in white and glossy onyx with metal accents reminiscent of vinyl and music instruments. It is interspersed throughout with splashes of rich jewelled colour and large-scale, fashion editorial-led installations by Brisbane-based photographer Justin Nicholas.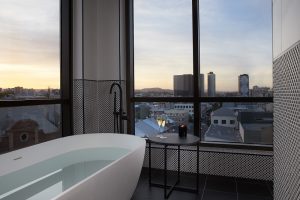 Mr Moran elaborated on the inspiration behind the hotel's interior design.
"The showstopping guest rooms surprise with clashing patterns in daring juxtapositions that elevate rooms from cookie-cutter to effortlessly cool.
"Room furnishings include sculptural bedheads with exposed concrete and feature lights, geometric plush rugs in bold hues, custom pendant lighting and textured wood panels, while floor-to-ceiling windows with integrated controls for curtains and lighting, showcase breathtaking cityscape views.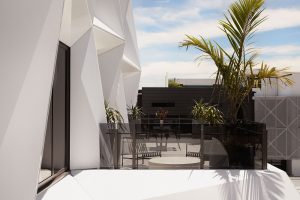 "Our guest rooms also contain a touchscreen Tapendium device. This provides guests with a premium interactive experience at their fingertips to read newspapers and magazines and request guest services including a pillow menu, room service and valet services; as well as an in-room control panel to customise the air-conditioning, curtains, and lighting.
"Hotel X uses a split air-conditioning system, offering high energy efficiencies with individual in-room climate control and a power-saving mode in unoccupied rooms. Automated curtains open on entry and close on departure, ensuring optimal air-conditioning energy consumption."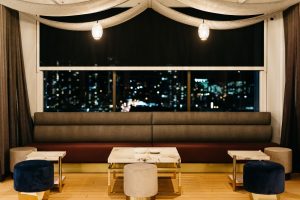 "The guest bathrooms contain antique metal fixtures, custom industrial-style lights and textural mosaic tiles. Guests are treated to luxurious amenities designed by notorious high fashion icon Karl Lagerfeld; this is the brand's first international hotel collaboration to date."
Guest reaction to Hotel X and its restaurants and bars has been overwhelmingly positive. A recent visitor described experiencing "faultless dining" at the hotels ground floor, Bisou Bisou restaurant.
Other reviewers love the expansive gymnasium, attentive service, the concierge valet, and especially the pre-mixed cocktails offered in the in-room mini-bar!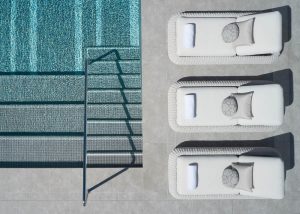 The exceptional rooftop Mediterranean restaurant and bar 'Iris Rooftop' presents panoramic city views. This has rapidly become one of Brisbane's 'go-to' roof top cocktail and dining experiences.
One delighted online reviewer (TripAdvisor, Bouffer9) sums up their thoughts on a recent Hotel X stay:.
"Our happiness knew no bounds when we were upgraded to a king bed premium room – 33sqm of luxury. As we entered the room, the floor to ceiling curtains swished back electronically; the king bed and furnishings were superb; the bar had premixed cocktails; gorgeous black and white tiled bathroom with Karl Lagerfeld toiletries."
Hotel X seems to do it so right. We asked Mr Moran what he thinks the hotel does best?
"In my opinion a luxury accommodation experience should be about being uninhibited and undeniably indulgent. Hotel X showcases this through its iconic artwork, avant-garde lighting and irresistible textures, each space exudes splendour, sophistication, and intense satisfaction," he said.
"In the rooms our guests can close the curtains or not, pour from the daring mini bar, slip on one of our robes, and get lost in their own world of opulence and they love it!"