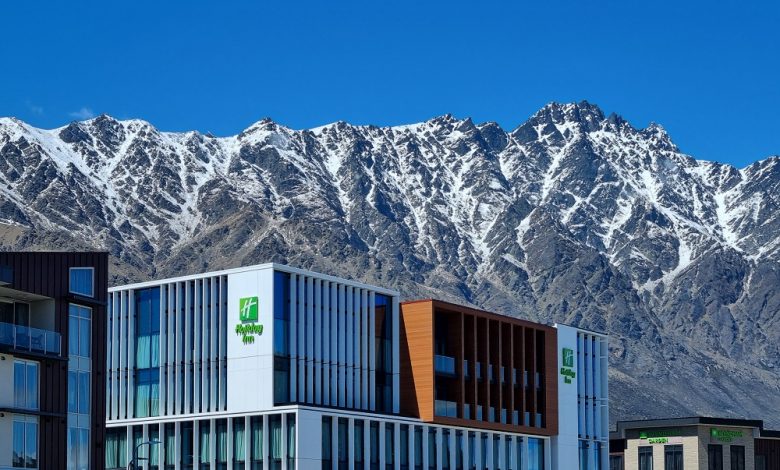 New Zealand
Holiday Inn Queenstown Remarkables Park debuts December
A new flagship property for Holiday Inn NZ
Holiday Inn Queenstown Remarkables Park, the company's first new-build Holiday Inn hotel in a decade, is on track to open its doors in Queenstown in early December.
The first full-service hotel to open within the new Remarkables Park lifestyle development in Frankton, the multimillion-dollar hotel boasts 182 rooms and suites,
The hotel's opening will unveil the first Holiday Inn 'Open Lobby' concept in New Zealand, a design intended to transform the traditional hotel lobby and separate eating areas into the one inviting, comfortable and energetic living space.
Mirroring a laid-back living room, open lobby offers guests a casual and flexible space to eat, drink, work, meet, relax, and socialise. Guests can move seamlessly between the fireplace, Giants restaurant and bar, media lounge, cosy seating areas, and E-Bar with plug-in power, Wi-Fi, and wireless printing.
The hotel's general manager, Mathew Simister, said the will set a new benchmark for Holiday Inn in the region.
"We are excited to open New Zealand's flagship Holiday Inn hotel and showcase the brand's next generation open lobby design, which will set the new standard for Holiday Inn properties across Australasia," he said.
"As the brand's first new-build hotel in New Zealand in a decade, Holiday Inn Queenstown Remarkables Park will impress with its modern design encapsulating the local surrounds, mountain views and vibrant local fare.
"For family, active leisure and business travellers, we believe there's no better full-service hotel that offers affordable accommodation, that genuinely and conveniently connects you with the awe-inspiring beauty of Queenstown's snow-capped mountains, rugged trails, river canyons and vineyards.
"We look forward to contributing to the ongoing success of the Remarkables Park lifestyle development and welcoming our first guests to the hotel this December."
The new property is situated a convenient 5-minute drive from Queenstown Airport and 30 minutes to The Remarkables ski area.
For corporate groups and other events, the hotel presents four flexible meeting rooms catering for small gatherings of up to 30 people and larger gatherings of up to 200 people theatre style.
Designed with floor to ceiling glass, a reflection of Queenstown's natural beauty continues indoors with organic textures throughout. Timber finishes and natural stone combined with shades of forest green and iron ore provide a sense of connection to the landscape, and serene calm.
Holiday Inn Queenstown Remarkables Park offers locals and guests a new go-to place for distinct food and drink options.
Inspired by the mountainous giants of the Southern Alps, Giants Restaurant, Bar and to-go Café serves refined rustic food and drink infused with local flavour. Rolling Giants to-go Café offers both healthy and indulgent snacks, teas and barista coffee throughout the day.