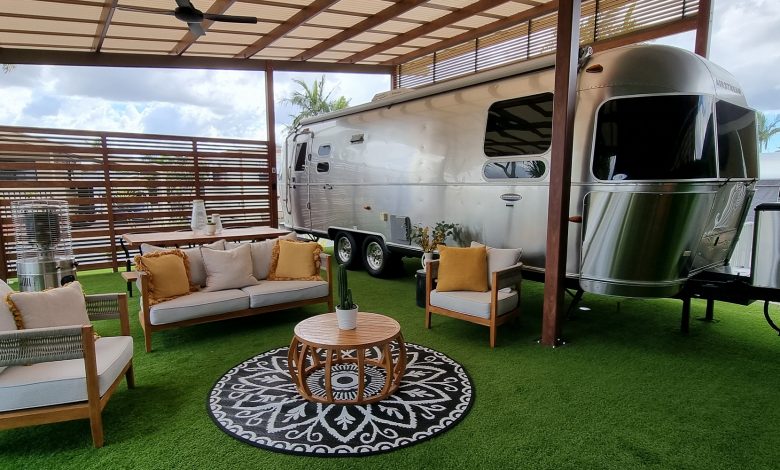 Holiday Parks
News
News In Brief
Vintage Airstream accoms increase revenue stream
Brisbane Holiday Village adds American vintage Airstreams to its Accom offering & attracts family glampers
For holiday parks, creating memorable guest experiences is the key to happy campers, and returning customers. That's why Brisbane Holiday Village recently invested in two unique American vintage Airstreams to add to its accommodation offerings.
Brisbane Holiday Village general manager Geoff Illich has worked at the park for 27 years and said the facilities offered on-site for guests were part of the holiday park's enduring success.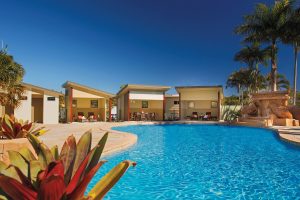 After a difficult few years with COVID-19 and border restrictions, the past few months had seen record numbers for Brisbane Holiday Village – and two new additions.
Brisbane Holiday Village's move to welcome the two vintage Airstreams to its accommodation offering makes it the first park in Australia to do so.
The American brand of caravan is instantly recognisable by its rounded shape and shiny aluminum shell.
Internationally, Airstreams have seen a resurgence as a unique accommodation offering, with 'Airstream hotels' popping up in America, France, Italy, and South Africa.
The two Airstreams at Brisbane Holiday Village, Betsy and Maisie, each accommodate two adults and two kids in style.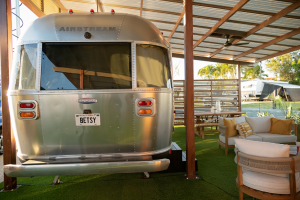 Mr Illich said investing in the airstreams had allowed the park to tap into the 'glamping' trend for families who want a unique camping experience.
However, Mr Illich said many families had returned to the basics and yearned for a classic family camping holiday.
"People have gone and bought campers and trailers and they want to use them," he said.
"I think people have reflected on their own childhoods and the memories of camping with their family, and they want their children to experience that too.
"It's a full resurgence of people getting back to basics."
Located only 15 minutes outside of Brisbane's CBD, Mr Illich said providing an environment for guests to enjoy onsite activities was key to their ongoing success.
Trends show that holiday village guests typically spend two to three hours enjoying the activities on-site, before venturing out for the day.
"People will obviously want to go into town, go to Dreamworld, but we find that guests generally spend those three hours on-site, and the balance is sleeping and eating," he said.
Brisbane Holiday Village boasts a number of areas for the young and young at heart to have some fun in the sun.
In addition to the pool area, playground, tennis courts, and minigolf course, the holiday village also offers larger-than-life games for families to enjoy- with a giant 'Connect 4' and a large timber puzzle available to use.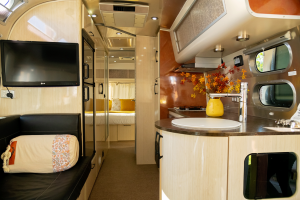 Brisbane Holiday Village also recently began renting out electric scooters for kids to use while holidaying, and they had proven incredibly popular.
Mr Illich said he had noticed a real change in the behaviour of guests, with families opting to spend time together more than in previous years.
"There's a lot less 'device time' and a lot more family time," he said.
"They're all in the pool together, they're playing minigolf as a family and they're enjoying family barbeques.
"They're getting out of the cabins and getting out in the fresh air.
"It's really lovely to see and it's a real trend I've seen this year."
While Mr Illich said that while Brisbane Holiday Village was lucky to have 33 acres for facilities, he said providing free activities onsite was a simple way of creating a memorable guest experience.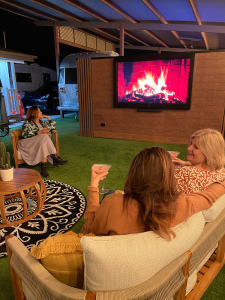 "Every school holiday, we'll organise free activities for the families. We'll have movie and popcorn nights, petting zoos, pony rides, wildlife shows, balloon art, face painting as well as poolside music and DJs," he said.
"We still need to get these customers back, so offering free activities makes sure those families come back but also are advocates for us when they leave.
"It means they'll tell their school friends and work colleagues about us."