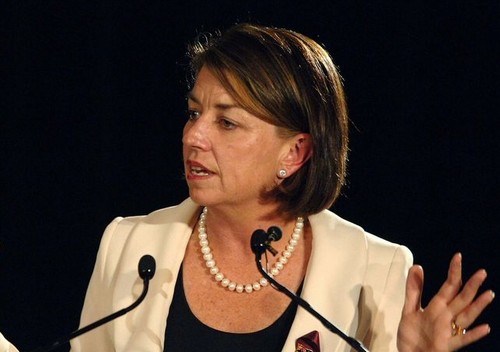 Queensland's struggling tourism industry has been given a big shot in the arm with the doubling of funding for events in last Tuesday's state budget.
The Bligh government will plough an extra $83 million into events funding over the next four years in a bid to attract more tourists to the state.
Premier Anna Bligh said the tourism package would help boost visitor numbers and support regional communities.
The budget increased events funding by $15 million in 2011-12, $20 million in 2012-13, $24 million in 2013-14 and $24 million in 2014-15.
"The summer disasters, combined with other factors like the high Aussie dollar and the recent impact of the GFC, has hit the leisure tourism sector hard and we need to do everything we can to build industry resilience into the future," Ms Bligh said. "The facts are clear: every dollar invested by Events Queensland in major events delivers a return of $10 for the Queensland economy."
She said the budget more than doubles the investment in major events across Queensland from more than $74 million to $157 million, an increase of $83 million over four years. Events play a vital role in supporting the states $9 billion tourism industry and the 222,000 local jobs and 115,000 regional businesses that are part of it Ms Bligh said.
Ms Bligh said Queensland needed to be more aggressive in pursing events like Victoria and NSW.
The injection of an additional $83 million into Queensland's events funding over the next four years has been welcomed by the Tourism & Transport Forum's chief executive John Lee who said the increased funding will be a boon for Queensland's tourism industry, which has battled the GFC, strong dollar and natural disasters in recent times.
"Establishing a strong events calendar can also help to drive visitation year-round, delivering operators more consistent returns, smoothing out seasonal variations, shoring up employment and creating a more sustainable tourism industry," he says.
The budget also contains a big boost for regional events taking the annual budget from $2.4 million to $3 million for the Events Queensland Regional Development program which supports more than 100 events in communities all over Queensland each year.
"This is a significant funding injection to support and foster regional events in smaller communities, many of which attract visitors from near and far and deliver a big boost to the local economy," Ms Bligh says.
The Accommodation Association of Australia was equally enthusiastic over the increase.
"The huge increase in funding is a tremendous outcome for the accommodation industry," said the AAA's chief executive, Lorraine Duffy. "Accommodation providers are now looking forward with confidence to increases in visitor numbers off the back of business events and major events, notably in regional areas.
"The Bligh government is demonstrating it understands the value of major events to tourism and the broader economy."
"It's been well documented that unemployment in places like the Gold Coast and Cairns is much higher than the rest of Australia," Ms Duffy said. "It's no coincidence the local economies in these two regions rely heavily on tourism and this strong support for events is a positive step in assisting areas like the Gold Coast and Cairns to regain their status as two of Australia's premier tourism destinations."
"This firmly places the appropriate focus on events as a reason to travel, particularly in driving domestic visitation to regional parts of the state," said Australian Tourism Export Council managing director Felicia Mariani.
Ms Mariani added that Queensland should be commended for successfully putting the state back on the tourism map, having enjoyed an "exceptional" Easter period, after this year's natural disasters.
She said, "Tourism Queensland has proven their capacity to use government funds effectively when we look at what they were able to achieve in working cooperatively with Tourism Australia in delivering the $10 million Queensland tourism promotion campaign earlier this year.
Ms Mariani warned however, "Most concerning is that Tourism Queensland's government appropriation is expected to fall from $55.6 million in 2011/12 to $43.6 million in 2012/13, with the enhancement provided during the last election coming to a conclusion at the end of the 2011/12 budget year.
"I would urge the Queensland government to continue to support the fantastic work of Tourism Queensland and the Queensland tourism industry by providing a budget boost as part of their upcoming election commitments. The need for continuing to drive demand to Queensland is critical."
The budget news comes on the back of news that international visitors to Queensland rose marginally despite the natural disasters which struck the state earlier this year. The latest Tourism Research Australia's International Visitor Survey show that two million international travellers visited Queensland in the year ending March 2011, an increase of 1% from last year's very low base.
Tourism minister Jan Jarrett said 197,000 Chinese visited in the year ending March, which represents an increase of 29% from last year. She also reported that Chinese visitors spent $388 million while in Queensland which is $62 million more than the previous period.
Hong Kong visitors to the state remained the strongest at 39,000. Visitors from Singapore rose 9%, Malaysians increased 13%, Koreans 8% and Indonesians 13%.