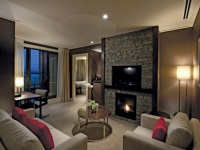 The much-anticipated five-star Hilton Queenstown at Kawarau Village is now open, offering local tourism a boost in luxury accommodation and conference facilities.
The long-standing project has faced many challenges, and the achievement of providing a high-quality fit-out, readying the hotel for operation on schedule from May 19, cements the procurement outfit's value with the operator.
Space Procurement's experience and expertise in high-spec hotel projects achieved significant budget savings in many discrete areas, allowing for the accommodation of new operator requests and greater flexibility in the use of the procurement budget across the board.
Working with the receiver (Korda Mentha) and development manager (McConnell Group) for the Kawarau Village project, Space Procurement collaborated with Stewart Harris, the hotel's interior designer, to achieve a positive outcome for the client: a final fit-out that is in line with the design and quality objectives of the parties involved in the project.
Space Procurement's involvement predates the current operator's appointment, and has included lengthy approval processes to achieve maximum budget efficiency, excellent quality and a seamless fit-out of all furniture, fittings and equipment that a five-star hotel requires. Essential in today's development environment, Space Procurement delivered on programme, giving the best quality for price and accommodating the new operator's requests and additions, within budget.
Tracy Cook-Kelland, Space Procurement consultant, says, "Being able to source and supply procurement for a challenging and iconic project such as Kawarau Village has been instrumental in demonstrating the role a procurement consultant can have in successful hotel fit-out. Working with the receivers, budget constraints were a high priority, as were the brand guidelines of the operator. All parties are delighted at the outcome of the project."
Space Procurement made the most of local suppliers, sourcing most of the furniture for the 178 guest rooms from New Zealand manufacturers, and most of the public area furniture, with the exception of some special features for the lobby lounge and public spaces, which were brought in from Europe. The fit-out process was managed entirely by Space Procurement's team on the ground, from the timed delivery and installation of fixtures to the removal and proper disposal and recycling of rubbish.
The hotel's 178 guest rooms comprise 29 different room types. A total of 4962 guest room items were sourced,, including 356 bedside tables, 178 beds and bedheads, 178 minibar fridges, 711 pieces of artwork, 194 lounge chairs, 243 TVs, 178 floor lamps, 178 desk lamps and 438 pieces of outdoor furniture. In addition, conference furniture, public area furniture and artwork, and full operating equipment were sourced.
Working with the five-star restaurant's operator, Space Procurement sourced and supplied tabletop (crockery, cutlery and glassware), kitchen, serving and display items and glassware for the wine cellar. The hotel includes two kitchens, one for the restaurant and one for conference and in-room dining. A health spa with 10 treatment rooms including a VIP room and two couples' rooms, gymnasium and pool complex support the five-star rating. There are two separate conference areas that are divisible into two sections seating up to 270 guests between them.
A key aspect of the Hilton's guest services is efficient communication systems. To ensure this, FCS WinSuite Call Accounting, Voicemail and eConnect have been installed by Brantas International Technology
Ltd. With this trio of solutions, the hotel has centralised its guest communications set-up with a single interface between the PBX and Front Office System.
eConnect provides an automated guest service request and inter-department work order dispatch system that sends jobs via various SMS and paging devices for the different departments. Guests only need to touch one button on their room phones to make any type of service requests. e-Connect is a web-based solution and all management and staff have access to the system. Each call is delivered immediately to the next available call centre agent, where requests are created and tracked until completion.
Brantas International Technology Ltd has been selling, installing and supporting FCS call accounting, voicemail and eConnect call centre and task management solutions since 2002. It has installed systems in over 60 three, four and five-star hotels and apartment complexes in New Zealand and Fiji and more than 300 in Australia. The Hilton Queenstown is the fourth Hilton hotel in Brantas' portfolio of customers.