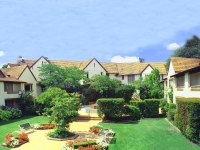 Developments
Hotel Enters new era With Mercure Branding After $8 Million Upgrade
One of Canberra's most historic hotels, Olims, is aiming for a new global audience after undertaking an $8 million upgrading program and joining Accor's Mercure brand.
The hotel has been re-branded to Mercure Canberra.
To celebrate the re-launch, the hotel is offering a special package including overnight accommodation in a Deluxe loft suite plus a two-course dinner for two in the newly refurbished Courtyard Restaurant for just $299.
One of the national capital's pioneering hotels, the 80 year old 'grand dame' was originally launched as the Ainslie Hotel before becoming the Ainslie Ladies Hotel in the 1940s, the Ainslie Rex hotel in the 1950s, and then Olims in 1989.
"Having been a major part of Canberra's tourism industry for almost 85 years, we are looking forward to the hotel getting a new lease of life with the renovations and the rebranding," says Jerry Schwartz, one of the owners. It's an exciting new era for the 'grand dame' of Canberra hotels, but while the accommodation will add 21st century comforts, the hotel's exterior and ambience will definitely retain its heritage style.
Hotel Ainslie back in 1927 "The hotel has been very popular with the local market since it was launched as the Ainslie, but with the new look and style, and Canberra's growing popularity with international travellers, it was time to give the hotel global branding," he said.
Accor already manages three other Schwartz Family Company hotels: Mercure Sydney, Ibis World Square and Fairmont Resort Blue Mountains, which is also undergoing a massive upgrading program.
The 128-room Mercure Canberra has already completed much of the renovation program, with all standard rooms receiving new bathrooms, new paint, new furnishings and fittings. The completely refurbished entry and foyer have been given an "early Australiana", theme, reflecting the hotel's historic nature and a new restaurant has been launched to complement the Bistro. Refurbishment of the remainder of the public areas and rooms will be completed by the end of the year, with each wing separated so that guests will not be disturbed. The bar will retain the Ainslie Bar name in honour of the hotel's origins.
The Mercure first opened in 1927 as the Hotel Ainslie, coinciding with the launch of Old Parliament House. Built in English deco style, it quickly became the centre of Canberra's social scene and today is still a popular meeting point for locals, dignitaries, politicians and business people.