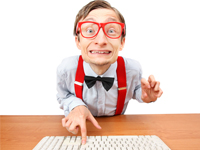 After nearly a decade of working closely with holiday parks across the country,
I have a unique insight into the marketing challenges tourism properties regularly face.
What marketing activity works and how much should be spent.
It is a fact that consumers today plan, look and book their travels and holidays with the help of a plethora of technological platforms – from the comfort of their living room, sitting in their favourite armchair and "surfing the net" on their laptop for that perfect travel itinerary, to taking a coffee break from work and getting onto their iPad or smart phone to find that irresistible holiday package that they can book immediately in time for a weekend getaway.
In today's busy world it is critical that, as an accommodation provider you make it as easy as possible for your prospective guest to find you, compare your rates, check your offer and book.
Gone are the days when your guests booked months out from their carefully planned holiday. Now you are just as likely to be approaching the Thursday before Easter with half your rooms/cabins/sites vacant and concerned that "this is going to be a lean one" when in the space of a day you can suddenly be full. Sure the group bookings and reunions will provide plenty of notice but the single bookings are tending to leave it later and later to confirm a booking. Off the road bookings are becoming more the norm than not.
The reasons for this are not only uncertain economic times, which indeed create a nervousness about committing too far out to an expensive holiday, but it is more the sheer convenience and enormity of the information that is now instantly available for the consumer. In order to survive and thrive in this online wonderland you had better be there in all your glory.
• Your website must be content rich, user friendly and have plenty of "colour and movement" to create appeal and memorability.
• Your rates should be easy to find, easy to understand and have parity with whatever third party sites you are listed on.
• Your rates should be loaded at least 12 months in advance (these can change but a guest should be able to look and book ahead if desired.)
• Your availability online should reflect the same availability a guest would get when calling your establishment.
• The rates/packages should be as simple as possible to understand, and no higher than rates sold over the phone.
• Ensure that conditions and cancellation requirements are clear and easy to find.
Today more than ever you need to be "up with what is hot" and "put aside what is not". You cannot fool yourself that technology is only for the young and your customers are not reliant on it. The fact is that all consumers are now using technology because it frees up their time to spend on other pursuits. We may be a slave to it but technology gives us power to act now.
By ensuring that your online presence is second to none and that you are constantly monitoring your web profile, being aware of your "look to book" ratio (the number of people visiting your site compared to the number moving through to the booking page to book), constantly monitoring your search engine ranking and monitoring how people are using your site compared to those of your competitors you will be well on the way to becoming a successful online accommodation industry geek – a must in today's fast moving technological age..
Then of course there's the whole new world of Social Media – but let's leave that for now.