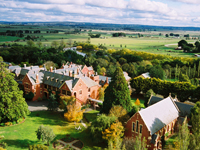 Developments
Million dollar upgrade to historic Ballarat resort
The original heritage and charm that makes WorldMark Resort Ballarat one of Victoria's grandest mansions
has been enhanced with a million dollar refurbishment on all rooms and common areas.
The grand building, which has been operating as WorldMark Resort Ballarat since 2003 is set on 20ha was built in 1878 and the old-war manor Federation and Victorian inspired architecture has attracted the property a heritage listing. In the early 1900s the building was used for the St Joseph's Boys Home and has significant historical importance to the area.
Wyndham Vacation Resorts Asia Pacific's $1.3 million upgrade on the resort is designed to offer a heritage retreat escape from bustling city life while seamlessly integrating all of the modern conveniences of today. The elegance and heritage of the property was maintained throughout the renovations with many features including a historic tulip motif on the tiles that was integrated into the new design theme in the architraves, stained glass and fabrics.
All rooms now have a new vibrant colour scheme, timber furnishings and modern fixtures which complement the heritage culture of the property. The accommodation now features new LCD televisions and upgraded modern kitchen appliances.
Barry Robinson, Wyndham's CEO and managing director said, "Our company prides itself on providing quality accommodation to our owners and invests significant resources into high standard refurbishments. The WorldMark South Pacific Club in the last 12 months has invested almost $4 million in property updates and additionally has $16.5 million reserved in its sinking fund for future refurbishments."
WorldMark Resort Ballarat has been in the process of the major refurbishment since October 2010 with all work completed in August 201