Developments
Port Headland to have huge accommodation complex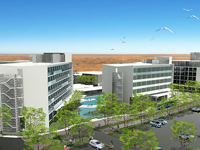 The booming WA Pilbara town of Port Hedland could see some accommodation relief soon with a private developer set to erect 240 new short stay apartments within the next three months.
The apartments will be contained within a $150 million five-star resort-style hotel called The Landing, designed for land opposite the Port Hedland Airport.
The WA developer responsible for the project, Centauri Property Group, targets areas where there is a significant lag between demand and supply, with Port Hedland a prime location due to the iron ore and gas industry.
The overall Landing project involves a total 650 room hotel and apartment development on a 4.4ha site, that adjoins the existing Port Tourism Park and BP truck stop, also owned by Centauri.
Centauri asset development manager Rob Cornish said he was optimistic the rapid influx of rooms would ease accommodation prices in Port Hedland. The apartments are currently being built overseas while the resort's two hotels will be built in factories on Australia's east coast, Mr Cornish said.
The developer is set to begin installing rooms early next year and aims to have the 240 apartments ready for occupancy by the middle of the year.