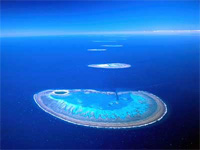 The Queensland government is increasing its social media use to piggy back on the expected popularity of the new BBC series Great Barrier Reef.
Tourism minister Jan Jarratt said it made good sense to build a tourism campaign around such an opportunity.
The reef will be spruiked to the British public through a $100,000 print and online campaign, with a supplementary social media effort featuring exclusive web content.
Ms Jarratt said, "We will be taking advantage of it to further promote the Great Barrier Reef, including footage from some of the top filming locations in and around the reef," she said.
Special Queensland deals will also be made available to British visitors.
But rising fuel costs under the carbon tax will hit the largest tourism operator in Cairns by up to $250,000 a year, while smaller operators expect to see their bills rise by up to $75,000 a year.
Tourism operators that travel to the Reef will be slugged with 6.2c a litre more for fuel when the carbon tax begins on July 1 and Quicksilver Group estimates its annual bill will jump by as much as $250,000, managing director Tony Baker said.
Struggling tourism operators in Cairns asked the Federal Government for a one-year exemption from the carbon tax because most businesses have set their prices until 2013. A reprieve has been granted to other industries that compete on the international stage, such as the trucking industry, which will be exempt from paying a price on carbon for two years.
Quicksilver is considering adding a single-digit surcharge to its boat trips starting in July, he said. "It's not something we want to do. We either implement it or try and wear the loss," Mr Baker said.
Reef Magic Cruises managing director Tim North was also worried the carbon tax could further devastate tourism in the Far North by encouraging tourists to visit cheaper sun destinations.
Opposition tourism spokesman Bob Baldwin said the government had not listened to the industry about the potential economic impact. But tourism minister Martin Ferguson said the government was already helping businesses by reducing the company tax rate by 1% point to 29% starting next year.