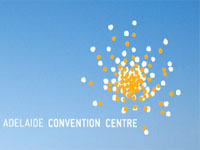 Construction work has ramped up on stage one of the $350 million expansion of the Adelaide Convention Centre.
Patrick Conlon, minister for transport and infrastructure and Adelaide Convention Centre CEO Alec Gilbert marked the occasion by turning the first sod on the site.
Mr Conlon said, "This expansion will ensure our ongoing competitiveness and boost its economic and tourism contribution to the State by more than $1.92 billion over the next 25 years".
Upon completion, the expansion is expected to realise an additional $70 million of annual revenue from conferences and events held at the centre and help revitalise the Riverbank precinct.
The first stage that expands the existing facility westwards is due for completion in time to host the World Aquaculture Conference in May, 2014.
"Expansion and redevelopment of the centre will re-establish Adelaide as one of the premier conference destinations and ensure its continued competitiveness in national and international markets," Mr Gilbert said.
Key features of the expanded Adelaide Convention Centre will include:
• A striking built form shape, roof structures and façade inspired by the South Australian landscape, particularly the layers, striations and colours of the cliffs, rock formations and escarpments of the Flinders Ranges;
• Three distinct and individually iconic buildings which also flow seamlessly internally to host one single major event or three separate events concurrently;
• The Stage One extension includes an additional 4300m² of multipurpose convention floor space, associated pre-function spaces, multiple meeting spaces and 1000-seat ballroom built on a "bridge-like" structure over the railway tracks up to Morphett St Bridge;
• Demolition of the existing plenary building constructed in the 1980s and its replacement with a more functional, highly flexible multi-purpose facility as Stage Two of the redevelopment including plenary capacity of up to 3500 seats or 3000m² of flat floor space. This venue can be subdivided and configured within minutes as pre-function space, ballroom, exhibition or plenary space – all of which realises the primary financial and economic benefits of the redevelopment.
• A new alternative main entry including pedestrian and vehicle drop off from Morphett St Bridge;
• A new urban boulevard (Montefiore Rd) linking North Terrace to the Riverbank Promenade and the Adelaide Oval in the north;
• A new main loading dock accessed from North Terrace.