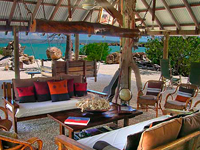 Solar power, handmade timber furnishings, ocean and earth colour themes, a custom built boat, unique Outback bar and a new jetty to work around the massive 7m tides
are just some of the recent upgrades at the exclusive Kimberley Coastal Camp in the far north Kimberley of WA.
Following its sale in late 2010, over $1 million has already been spent on upgrades at the luxury wilderness retreat with more to be expected in coming years.
In keeping with the rustic yet refined theme of Kimberley Coastal Camp, furniture has been handmade in the south west of WA by local craftsmen. "A lot of thought has gone into each and every decision on this project", commented manager Kevin Dean. "If it's not unique, then it's not for us."
The new solar power system produces over 80% of the camp's daily power and repeat guests will notice the absent hum of the diesel powered generator.
Kimberley Coastal Camp's reputation for unparalleled hospitality remains unchanged, with a high staff to guest ratio of 1 staff member to a maximum 3 guests. All inclusive packages at Kimberley Coastal Camp start from $2594 per person for two nights and guests can choose to spend their days viewing some of the world's oldest rock art – Gwion Gwion – or the more recent Wandjina rock art, bushwalking, fishing, birdwatching, mudcrabbing, or just relaxing in the peaceful surrounds of the Admiralty Gulf.
Packages include transfers from one of four Kimberley locations, meals, beverages, accommodation, all activities and a scenic flight over the Mitchell Falls.