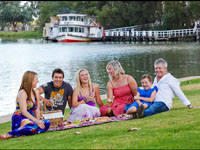 News
Mildura accommodation must keep raising the bar
A Mildura Tourism survey of local accommodation operators revealed the region's tourism industry was performing well this summer,
with 80% of accommodation providers reporting that bookings between January and March were equal to or better than previous years.
The survey of local accommodation operators is conducted annually in February by Mildura Tourism.
The results also showed that for the busiest visitation period – over Christmas and the new year – 74 % of local operators said business was similar to or better than usual.
Mildura Tourism CEO Rod Trowbridge is urging accommodation operators to keep "raising the bar" after the previous disastrous year where there was a 30% to 60% downturn in business due to floods.
But he said the industry rebounded quickly and by June the numbers were back to normal, although visitor feedback recorded by operators this year showed some guests were still reluctant to travel and remained concerned about high river levels.
"The bar is always being raised by consumers and we have to meet that demand," he said.