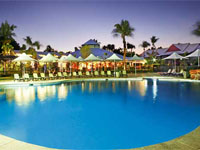 Oaks Hotels and Resorts has strengthened its presence in the Kimberley region with the purchase of the management rights of one of Broome's premier properties, the 167 apartment Broome Sanctuary Resort.
Previously owned by investors from Queensland's Sunshine Coast, the property will be renamed Oaks Cable Beach Resort and will complement the company's existing Roebuck Bay property, Oaks Broome. The sale was negotiated by Ian Crooks, managing director of Resort Brokers Australia and Glenn Millar, the company's regional sales consultant for Queensland.
A short walk from Cable Beach and a five minute drive from Chinatown and the heart of Broome, the Cable Beach Sanctuary complex comprises a modern, 167 residential unit development with management/commercial strata title units incorporating a conference centre, restaurant/bar, resort shop, day spa and former jewellery outlet.
The apartments comprise a mix of one and two bedroom apartments and three bedroom villas, all of which are fully self-contained with some villas equipped with private plunge pools. All apartments have a covered courtyard or balcony areas.
Mr Millar said the property had attracted strong interest from both individuals and major hotel groups and that the Oaks Group assumed management of the resort on 22 February.