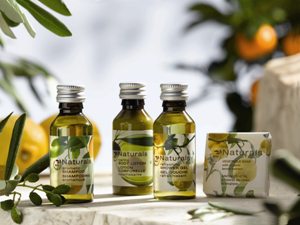 The use of biodegradable amenities is becoming ever more popular in hotels.
A great move towards properties being environmentally friendly, biodegradable amenity packaging can be disposed of with the peace of mind that they will not remain for centuries in a landfill.
Greg Milham, owner Cawarra Cosmetic – producers of certified organic hotel amenities in biodegradable packaging, believes the benefits of environmentally friendly amenities is not only to reduce the environmental impact of the manufacturer but of each accommodation provider and therefore each guest.
"By having a product that is non-toxic, organic and or natural is not just about reducing the carbon footprint but caring about what products your guests are putting on their skin. We all need to strive for only sustainable products so where possible accommodation providers need to look at their total supply chain and seek companies and products which can guarantee this. There is no use having a card in the bathroom re washing of towels if you then supply amenity products that are not sustainable," he said.
Mr Milham says more and more suppliers are now sourcing biodegradable and compostable plastics as accommodation supplier's request.
"All the discarded amenities end in landfills so it is important that the choice of packaging used is able to break down, without biodegradable packaging this process can take hundreds of years. Biodegradable plastics have been around now for a few years and can be sourced from Asia or the US and all establishments should be insisting on their use," said Mr Milham.
"The biggest news in environmentally friendly amenities over the last few years is the concept of having certified organic products packaged in decomposable packaging whether it is a plastic tube or a paper carton. This way you are sure that the product inside the tube or bottle has been produced using sustainable farming methods for the raw materials," he said.
Robert Leung, managing director of Promocean Australia – creators of designer paper products and hotel guest amenities, says some of the benefits of environmentally friendly amenities is that they are a good marketing tool for accommodation providers.
"It is getting challenging to find key points of difference in a crowded market place with so many accommodation providers at the moment that are experiencing low occupancy from the reduction of overseas travellers (due to high Australian dollar) and from leisure travellers.
"Some hotels have gone eco friendly and this has made them stand out from the crowd. This niche market is growing and will continue so," says Mr Leung.
There is generally two categories of environmentally friendly amenities according to Mr Leung: bulk dispensers were they are refillable and degradable plastic bottles. The later, he says, is a more recent development during the last two years and is gaining more popularity. And the use of enzyme additives into plastic has made them more degradable in landfills.
"I believe the future for eco friendly amenities is the development of more biodegradable materials, use of recycled cardboards and use of soya ink rather than the traditional oil inks. Newer and more effective degradable bottles will filter through to the amenities industry once they become more mainstream and cheaper to produce," says Mr Leung.
"I believe there will be a big push for the amenities industry to relook at the quality of their products, (which was lacking due to need of competitive pricing) and using more natural ingredients, use of organic or certified organic products. This niche market will be market driven and for the smart accommodation provider, they can use these as an effective marketing tool to differentiate themselves from other properties," he added.
While Roland Funk, director of Swisstrade – a manufacturer in Australian amenity dispensers, says the objective for the hospitality industry is clear, "Hotel guests are people like you and I and are therefore equally concerned about the sustainability of our planet".
"Suppliers to the industry, as well as accommodation providers therefore have the obligation to cater to the environmental concerns of their guests," he said. "Considering the impact daily replacement of hotel amenities has on the environment, the goal is evident; either we offer our guests environmentally friendly toiletries in biodegradable packaging or our planet is going to be littered with ever larger quantities of partly used soap bars and mountains of packaging from bathroom amenities," said Mr Funk.
Some of Australia's amenity suppliers have reacted to these concerns and are offering various products and packaging considered 'environmentally friendly' and 'biodegradable'. These products explains Mr Funk are often eliminating or reducing wastage, replace plastic packaging with paper wrappers and ensure the plastic used is formulated to biodegrade and break down within a few short years, rather than hundreds or even thousands of years.
"The world's scientists are working on ever more effective packaging options and formulations in order to render plastics recyclable and biodegradable. However, the most environmentally friendly option is of course always "not to create" waste in the first place," Mr Funk said.