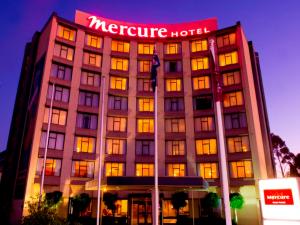 News
Geelong Hotel Signs Standard Contract for Events
In an Australian first, Mercure Geelong together with other Geelong hotels have come together to create a Standard Accommodation Contract that will make it easier for professional conference organisers when planning business events in the regional city.
The idea for the conference agreement was developed during a meeting between Geelong Otway Tourism and the general managers of Geelong's major conference accommodation providers, with the intention of giving Geelong an edge over other regional destinations in Australia when it comes to business events.
The new agreement eliminates the need for PCOs to examine multiple and vastly different hotel contracts and allows for a more streamlined approach to negotiations when organising a conference or business event.
One of Geelong's largest residential conference hotels with 138 guest rooms and the capacity to cater for up to 600 delegates, Mercure Geelong is proud to be part of the initiative which is set to boost Geelong's reputation as a leading business events destination.
General manager Benjamin Krieg said, "We are excited to be part of this Australian first and exciting initiative for Geelong. The introduction of the new Standard Accommodation Contract will ensure that PCOs, associations, corporate and conference bookers can focus on booking their conference in the superb city of Geelong without the hassle of trawling though numerous and cumbersome contracts for multiple hotels, especially when their conference is too large for a single property to host.
"We are confident that this new agreement for Geelong's accommodation providers in collaboration with the award-wining team at Business Events Geelong, will foster new relationships and continue to drive more residential conferences to Geelong, further cementing its place on the map as Victoria's preferred conference destination."