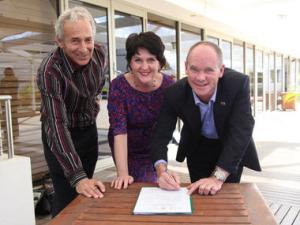 Regular readers will know that the Queensland state government, in its first 100 days in office, hosted a major tourism conference DestinationQ in Cairns last month.
Not another talkfest or jolly for the pollies, bureaucrats, RTO bosses and those industry operators lucky enough to attend?
Well that was the view of at least one of my colleagues up on the Sunshine Coast Hinterland when I put my hand up to go and to put forward some of the issues that we need changed so that our beds are filled, our restaurants turn a profit, attractions continue to survive regardless of the weather, arts, culture and our beautiful nature destination are more appreciated.
Wrong and wrong again. This was one of the best, most invigorating conferences that I have attended any time – and that includes a couple of world infrastructure and telecommunications ones around the world. As with all great events, this one was well prepared with the ability not only of delegates but also of the tourism industry across Queensland to input their concerns, without fear or favour. And whilst the conference was open to all operators, attendees were culled to ensure a wide range of operators, large and small, accommodation owners and managers, airport CEOs, developers, transport and attraction owners, people from arts and culture, ecotourism and cruise folk, educators – the comprehensive list went on.
To listen and help came our "can do" premier for all two days with a phalanx of ministers, director generals, council mayors, TQ and RTO bosses – pollies and bureaucrats of all the key areas impacting on the tourism industry and its products.
So as to limit the "free riders", while the conference itself was free, all industry participants had to pay their accommodation and airfares – only the Cairns denizens got off scott free on that account.
The scene is set, the guests are met – mayst hear the merry din – no, not the Ancient Mariner of Coleridge fame, but none other than Can Do Newman, Queensland's premier, who, with his boundless energy, set the scene accompanied by his hardworking and charismatic minister of tourism Jann Stuckey and aided on "own" side by Queensland Tourism Industry Council chair Stephen Gregg, known to many of us as the former Tourism Queensland boss.
So, apart from plenty of time to network with friends and colleagues old and new, what happened? Lots of hard work. By individual request we were split into six areas of interest or "themes" being:
• Investment, infrastructure and access (the one I choose)
• Quality, skills and capacity
• Tourism partnerships
• Marketing
• Ecotourism
• Product and experience development
Each group was allowed to experience one session with one other group. With my interest in the drive market I choose marketing.
The objective for each group was to take the requests already received from operators and condense them down in a democratic process into five key items for action under First month, First three months, First six months and First year. Pleas for bags more money were taboo, as were long-winded "war stories" of past doom and gloom. The agenda was set for action to go forward to conquer. We were participants in a brave new world of cooperation. Cutting red tape and operating costs, defining which department does what, those and a myriad of other topics were aired, debated and put into an action plan, duly signed off by the premier, chair of QTIC and the minister for tourism, major events, small business and the Commonwealth Games.
So may I finish by summarising some key elements of this action plan that might interest you.
First month:
• The aforementioned tourism minister's department will be a one stop shop for coordinating tourism outcomes across agencies, thus giving a clear agenda to the Tourism Cabinet Committee; with QTIC being the peak industry collaborative voice
• A Queensland ecotourism plan is to be started to enable greater access to national parks as well as addressing opportunities to cut red tape, whilst lobbying federal government to address penalty rates.
First three months:
• Cut ecotourism red tape; finalise structured tourism partnerships between TQ and RTOs
• Prioritise tourism development and build up capacity, also reduce and fast track planning approval processed
First six months:
• Promote language skills and cultural awareness (one of my pleas)
• Fine tune tourism in protected areas
• identify "hero experiences", product clusters and themes to build key market share
• Provide regional tourism forums
• Lobby the federal government for better aviation conditions in Queensland
First year:
• Provide an agenda for Tourism Cabinet Committee across five key areas including using surplus government land for tourism
• Develop a partnership approach for all key players inc TQ, RTOs, government departments and industry
• Develop a strategy to achieve 2020 growth target and investigate alternative funding models for tourism development and marketing.
When the hurly burly's done, when the battle's lost and won, I hope that many of the boxes above are ticked a year hence and we all are reporting decent profits for our tourism business.
Go for it, all of us. Let's turn our industry around.