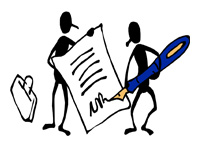 We live in a world where we enter into contracts on a daily basis – whether we realise it or not.
When we do so, there are many contract terms that we take for granted as we assume they are obvious terms that go without saying. For example, when you order a coffee you expect it in a cup; when you buy shoes you expect a left and a right. Sometimes what goes without saying though can be less than obvious.
If you contract with a pool cleaner to clean your pool every month for a year but you end up emptying your pool for winter, do you pay for those months? If you lease a shop but the roof starts leaking, do you keep paying the rent?
If a body corporate pays a building manager to maintain its grounds but the grounds are flooded for a month, does the body corporate pay for that month?
Sometimes these questions are clearly addressed at the time the contract is entered into. For example, most commercial leases address what happens when the leased property is no longer useable. The rent abates pro rata depending on the degree of continued usage.
However, what happens when there is no clear answer in the contract?
A contract that can't be performed due to an intervening event that has substantially affected what was agreed to is referred to as a "frustrated" contract. An intervening event is something beyond your control that interferes with completing the contract – an act of God, for example. Emptying your pool for winter is not an act of God and accordingly, you will have to keep paying the pool cleaner. Contrary to some opinions, the decisions of a body corporate are not an act of God either.
A frustrated contract ends at the point in time that an intervening event occurs that prevents the contract from continuing. Where possible, the courts will resolve the contract in a just and fair manner but this can be as simple as letting the chips fall where they lie.
But what about this situation?
You are the resident building manager of a holiday high rise. Your body corporate has resolved to replace all external windows and balcony sliding doors due to corrosion. The body corporate also decides to externally paint the building at the same time. You (and your letting owners) accept that it would be dangerous not to make these renovations. Problem is, the building is going to be covered in scaffolding for 18 months. Units will be incapable of being let for periods of time, owners will be hit with substantially reduced income, cleaning of the common property will increase dramatically because of tradesmen coming and going, your caretaking workload doubles and you estimate that your income from running the on site letting business will be down $400k-$500k for the 18 months. This is a real case scenario.
Surely you are entitled to compensation for the loss of your letting income? Surely the body corporate is going to increase your caretaking fee because of the additional work you have to do?
Simply put, there is no compensation payable for the loss of your letting income unless you can somehow link the loss to negligence on the part of the body corporate. The same applies for the unit owners in your letting pool. At best, this will be very difficult to prove and, at worse, impossible to prove.
What about your caretaking remuneration? Are you entitled to an increase to cover the additional work? Unfortunately (and unfairly) in many cases you will not be entitled to further remuneration. It all comes back to the wording in your caretaking agreement. Some agreements contemplate the building manager receiving an additional hourly rate payment for supervising work associated with payments out of the body corporate sinking fund. However, many agreements are silent on this point, which means that you may be caught by your general duties under your agreement to clean and maintain for a situation just like this for no more than your base remuneration.
Frustrating?