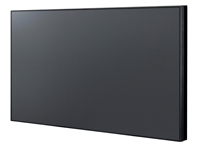 News
Panasonic Launches its First Ever Video Wall
Panasonic Business Systems Group this week launched the new LED 55-inch LFV50 Video Wall, which will be available in Australia in January 2013.
Panasonic's first ever LED Video Wall Display features an ultra-narrow bezel for near seamless wall installation and delivers stunning picture quality with 800 cd/m2 brightness. With superb clarity even in well-lit areas, the LFV50 is ideal for a multitude of digital signage, public information and command and control applications in locations such as transportation hubs, retail centres, corporate lobbies and more.
Content can be displayed on the individual 55″ screens, or shown across multiple displays. When mounted bezel-to-bezel, the displays' screen-to-screen distance measures a tiny 5.3 mm. This creates almost continuous extra large-scale images for high impact at events or exhibitions, in retail store displays, or to reach out to large audiences easily and clearly at big public venues or airports. The LFV50 also features low power consumption via an automatic dimmer that reacts to surrounding ambient light, which is great for reducing energy consumption when in use for prolonged periods. The displays are designed to work in both portrait and landscape orientations, to cater for a range of specific sizing requirements. Additionally, users can daisy-chain the displays via DVI-D for easy digital loop-through of the video signal for up to a 5×5 video wall.
Chris Maw, product marketing manager projectors, said, "The new video wall is a product that can really stand out in the crowd used as a promotional tool, or can create high impact visuals at events or exhibitions, in retail store displays or at airports. With the addition of the LFV50 to the comprehensive display range, Panasonic now offers customers a nearly unmatched variety of display solutions that are suitable for almost every professional application."