Appointments
Rugby great tackles new role as Fraser Coast ambassador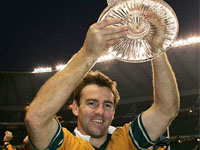 One of Australia's most recognised rugby union players, Chris Latham, is tackling a new role as the ambassador and official face of Fraser Coast tourism.
In a joint initiative of Tourism Fraser Coast and Fraser Coast Regional Council, Chris Latham will utilise his enormous Queensland, Australian and international appeal to lift awareness of the region as a tourism destination.
General manager of Tourism Fraser Coast, Pip Close, said Mr Latham's appointment was a terrific coup for the region. "We are extremely excited to announce Chris's appointment as our official tourism ambassador," Ms Close said.
"As a Queensland icon in his own right, he is the ideal tourism ambassador to promote iconic Queensland experiences such as the spectacular World Heritage Listed Fraser Island and our up-close-and-personal whale encounters at Hervey Bay," she said.
Mr Latham has strong ties with the Fraser Coast community having holidayed in the region since childhood. He moved to the Fraser Coast two years ago with his wife, whose family are long-time residents. The Latham's two children attend school in the area.
Mayor Gerard O'Connell said Mr Latham's strong commitment and desire to represent the Fraser Coast would bring enormous benefits for the region.
"We are very thrilled that Chris will now be representing the Fraser Coast in an ambassadorial role. Being a resident and strong advocate for the region, coupled with his huge international profile, we believe he is the perfect choice to work with Council and Tourism Fraser Coast in promoting our destination to new and existing markets," Mr O'Connell said.
As Tourism Fraser Coast ambassador, Mr Latham's duties will include a regular tourism blog, assisting with media and advertising campaigns and attracting sporting and other groups to the region.