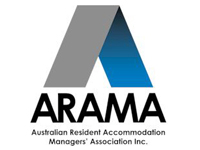 ARAMA Report
Commitment to training to ensure industry growth
ARAMA's leadership group have committed to a five-year program to position Australia's management rights industry to full and meet the expectation of density living operation in both the tourist and permanent complexes in Queensland and the rest of Australia.
As a result of an ongoing work program, ARAMA is completing a five-year strategic plan for the on-site resident accommodation industry, with the support of other key industry sectors, government departments and legislators, to ensure that all industry sectors better understand the value for money and comprehensive range of benefits offered by on-site managers in Australia's growing investment of density living complexes for holidays, investment and day-to-day living.
We at ARAMA have been concerned that there is not a full understanding of the management rights function within complexes, often seen only as a caretaker and maintenance role.
As the on-site asset manager, the resident manager has, as a licensed person, far greater responsibilities and obligations to owners and residents and a whole range of stakeholders that have not been adequately explained and detailed.
Our five-year strategic plan has a commitment to continuous training for resident on-site managers and a greater active relationship with all our key stakeholders to ensure that they are not in any a doubt of the role and benefits that are provided by professionals in the management rights industry and all members of their team.
Australia continues to embrace density living in major cities and one of the key requirements is the organised operation of the diversity of occupants in the complexes and their various requirements that need to result in a harmonious operation, with a clear understanding that there is a real need for a transparent understanding of what is involved in asset management for the benefit of all parties.
Many people still see that management rights is associated with Australia's tourist industry density living complexes and this has been true in the past. But currently, following new planning laws that provide opportunities for the strategic development of density living schemes in urban renewal and transport node centres, key demographic groups are investing in the new lifestyle opportunities. Now with so many people choosing to buy, invest and rent  in strata title and community complexes in major city areas, more than 60% of occupants are choosing to live in this type of modern strategically located accommodation with all the benefits of lifestyle living within their building.
Added to this, is the revival of older holiday complexes and the steady investment in new complexes in the traditional holiday resort sectors, which continue to attract investor owners.
While the management rights industry was developed in Queensland more than 50 years ago to provide a balanced structure for the growing tourist industry and has been enshrined in the strata and community title legislation, the recognition of its 24/7 management structure for investment complexes that range from boutique complexes to major resorts, indeed new strata community suburbs and mixed use high rise developments with values exceeding a billion dollars, requires managers and their teams to have a diversity of management and administrative skills.
ARAMA has already established a training network with industry providers to establish the basis of developing continuing education programs to ensure that our members can continue to deliver best practice service delivery and to be conscious of opportunities for the benefits of owners and occupants. The day-to-day management of complexities with the diversity of occupants requires a vast range of skills and it is vital that as major part of an industry association to ensure that all members are required to commit to ongoing professional development to maintain and improve standards.
We are very conscious of the need to contain operating costs and to ensure that the substantial assets are properly maintained and sustained in a modern economic. Modern professional management practices are an essential element in every business and our strategic commitment is to ensure that this is enhanced within the management rights industry.
It is interesting that the Australian management rights model has been adopted in competing markets in Asia and the Pacific in both domestic and holiday living complexes and there are many Australia managers operating in these countries.
As part of our ongoing program of continuous improvement within the management rights industry, ARAMA continues to contribute survey information and has financially supported research projects with the Griffith University's Department of Tourism, Leisure, Hotel and Sport Management. Again, we will be involved with a number of the research projects that will lay the basis for presentations at the 2013 Griffith University Strata & Community Title in Australia for the 21st Century Conference.
ARAMA has already contributed practical briefings to the current National Climate Change Adaptation Research Facility for accommodation buildings and strata and community title complexes.
Our NSW president Jeff Beere has joined a City of Sydney committee on energy savings in strata buildings and he has already delivered some practical examples already being implemented.  
Having had some sound experience in the commercial sectors of major international corporations before moving into the management rights industry, I am committed to adding proven  management practices and strategies to further improve the performance of the men and women who are delivering the 24/7 services  within the industry.