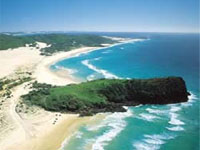 Tourism operators will have the opportunity to help shape the future of the industry on the Fraser Coast at a major forum in Hervey Bay next month.
The Fraser Coast Industry Tourism Forum, to be held at Peppers Pier Resort on November 5, will feature an impressive lineup of guest speakers, providing strong professional development and networking opportunities for delegates.
Tourism Fraser Coast general manager Pip Close said the program had been carefully crafted to ensure delegates could interact, share ideas and discuss ongoing future opportunities within the Fraser Coast region. "It will be a great opportunity for tourism professionals to connect, keep abreast of new trends and be part of shaping the future of our industry," Ms Close said.
Guest speakers include Felicia Mariana, managing director of Australian Tourism Export Council; Paul Massingham, executive officer for regional development Australia Wide Bay Burnett; Jesse Desjardins, social media and advocacy manager for Tourism Australia; Mark Olsen, general manager of consulting services with EC3 Global; Krista Hauritz, Managing Director of her own tourism, marketing and consulting business; Peter Cash, managing director of Lady Elliot Island Eco Resort & Seair Pacific; Bruce Wallace, director of communication and publicity for Tourism Queensland; Kim Harrington general manager for business strategy QTIC and Julie Molloy, director of social engagement initiatives for Volunteering Queensland.
The program includes informed discussion on topics including the drive market, mining and tourism opportunities, excelling in customer service, increasing the average length of stay, promoting the Fraser Coast and opportunities in the digital age.
To register for the event contact Stephanie Foster: [email protected]