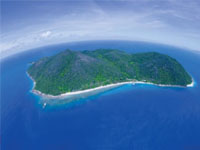 Cairns-based Raging Thunder P/L is suing Bankwest after it lost $11 million when a resort on Fitzroy Island collapsed financially three years ago.
Raging Thunder alleges negligence and misleading or deceptive conduct by Bankwest.
Raging Thunder sold Fitzroy Island Holdings in 2006 for $18 million but the receivers for the buyer, Sunshine Coast entrepreneur Joshua Hunt, sold the resort for less than $8 million. Bankwest had loaned FIH $60 million for a major redevelopment of the resort. Raging Thunder's legal team alleges Bankwest did not exercise reasonable care in its lending under the contract.