Developments
Blue Mountain's Grand old Lady Ready for Revitalisation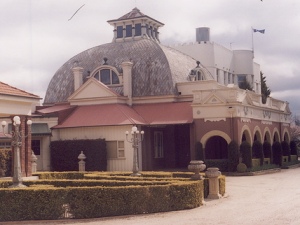 Work to redevelop the Hydro Majestic Hotel in the Blue Mountains will commence "in a matter of weeks' according to international interior designer Peter Reeve.
Mr Reeve is overseeing the multi-million dollar upgrade for Hydro Majestic Hotel's new owners The Lilianfels Group. Stage one (refurbishment and additions to the hotel's main common and function areas including restoration and enhancement of The Wintergarden, The Billiard Room, The Delmonte Building, conference rooms, The Majestic Ballroom and Cats' Alley) will be completed mid-to-late next year and the final stage (existing and new accommodation facilities and a luxury day spa) within two years, according to a report in the Blue Mountains Gazette.
Hydro Majestic Hotel that put Medlow Bath on the map was built in 1895 and has been closed for several years.
Mr Reeve said the project took an extra two years to plan, review and gain development consent due to the complexities of refurbishing a heritage-listed building.
"The Hydro Majestic Hotel is a real jigsaw of architectural styles and so it was a real jigsaw puzzle-solving act to retain the buildings' period features while revitalising it and adding new parts," Mr Reeve said.
"For example, the Grand Casino Room has been remodelled more than six times (since 1904) and we plan to completely rejuvenate it, make it the main entrance and reception space and remove an internal wall to let light flow in and create direct views of the escarpment."
Architect Ashkan Mostaghim of Mostaghim & Associates has created a series of new additions to the development plans, including a major upgrade and extension of the Belgravia building, a new Mark Foy accommodation wing and the project's public centrepiece, the 600m² Mark Foy Pavilion.
The long-neglected Boiler House will be restored and opened to the public for the first time, celebrating the fact the Blue Mountains was wired for electricity four days before the Sydney metropolitan region.
It will have its own gallery, bistro and a restaurant called The Terrace looking out over Majestic Point lookout. The Avenue of Pines will be reinstated with new landscaping inspired by Paul Sorensen and the historic Hydro Majestic croquet lawn will have a second life.