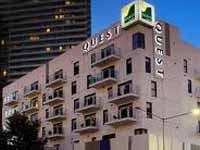 The $2 million refurbishment of Quest Docklands Serviced Apartments has been completed including the launch of 133 newly restyled apartments, the renewal and restyling of the property's reception, lobby and common areas,
a new business centre with upgraded meeting facilities and a property wide upgrade to faster Wi-Fi internet connections.
The refurbishment was undertaken to better cater for corporate travellers by improving the business services available at the property and maximising the spaciousness and functionality of the apartment layouts and self-contained facilities.
Demand for accommodation in the Docklands precinct has been stimulated by the addition of several major high rise developments in the area. Office buildings due for completion in mid-2013 and 2014 include the new 15-storey office tower housing the operations of the National Australia Bank at 700 Bourke St, a 20 storey office tower at 740 Bourke St that will be occupied by Medibank and the completion of Walker Corporation's Collins Square development with Commonwealth Bank, Australian Tax Office, Pearson Group and Marsh & McLennan Companies being the major tenants.
Brendan du Kamp, general manager, Quest Docklands said, "We are thrilled to announce the completion of the property's 18 month refurbishment. The newly restyled apartments with enhanced business facilities will further strengthen our position as a premium accommodation provider in the precinct at a time when demand is increasing.
"The majority of our guests are travelling for business and our offering needs to provide a balance between offering a comfortable 'home away from home' as well as providing the facilities they require to work productively and efficiently, " said Mr du Kamp.
The completed refurbishment includes the following enhancements:
• 133 restyled apartments with new colour schemes, custom designed interior furnishings and larger work desks
• New business centre: Mac computers, printing and copying facilities
• Property-wide upgrade to faster Wi-Fi internet connections
• Restyling of lobby, reception and common areas
• Refurbished conference facilities including Wi-Fi and a new data projector – with all AV equipment now included in the room hire.
Quest Docklands donated all of the replaced furniture, bedding and electrical equipment including TVs and audio visual equipment to the St Vincent de Paul Society.
The St Vincent de Paul Society will use the items to meet requests for welfare assistance and any surplus items will be sold through Vinnies Centres with the profits being used to fund local welfare work.
St Vincent de Paul Society State President Tony Tome said "We were delighted when Brendan came to us with this offer. A donation this size of goods that are great quality is something that doesn't come along very often and something we can put to excellent use."