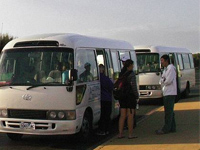 If you want to destroy your business or discover what is really wrong with tourism read on!
As is so often the case an impromptu event becomes a star turn. A few tourism friends called in and it was not long before the conversation turned to "shop" talk. It was one of these rare occasions where I just listened and did so in absolute amazement.
Can you imagine a tour operator failing to pick up his passengers who had booked the previous day? Can you imagine an operator complaining that nobody seemed to know of his business? And how about a business owner who had his debtors preparing his invoices for him so that he could then return them for payment? The piece de resistance became the tourism minister who spruikes having holidays in Australia and promptly departs to one of the most exotic and arguably expensive holiday destinations in the world.
And then there is the tour booking business that spends time explaining and selling the tour only to find the operator cancels and the tour business has to refund the money without any compensation for loosing their commission.
I have known many tour businesses and the hidden and "tricky" aspects they all have – be it one way or another. They also enjoy the one common denominator everybody has as part of their endeavour. It's called customer service and satisfaction.
The chap who did not pick up his tour passengers really seems to have a major difficulty. Not only did he decide to cancel the trip for the day but completely forgot that he had a vehicle full of passengers who had already paid for the outing. To make matters worse he reportedly enjoyed the afternoon at the local with a few of his mates. My first reaction was to give him the benefit of the doubt but it turns out that this was not an isolated instance. Not only that but he was not the only operator to be known for this kind of lapse.
The one who complained that his business was not well known apparently always cancelled when he did not have a full quota of passengers. Yes, we all understand that this can put the bottom line into the red but it also makes his business invisible to the public who would perhaps select his service if they only knew it existed by simply seeing his bus go by. To make matters worse, bookings would be accepted only to be refunded when he decided to cancel.
All this is akin to the baker who bakes no bread since nobody comes into his shop to buy. They most certainly would, especially if he had the best bread in town. But we will never know unless he bakes it first. A curious but common conundrum that simply reflects the risk every business owner has to, and does, take.
The story that really amazed me was the one described by a booking office proprietor.
They, of course, sold the tickets and would pay the tour provider on his invoice less their commission. Nothing new or unusual about that. What is incredible is that they would first have to draft the invoice so that the supplier could forward it back to them in order for him to get his dues less their retained commission. We could look at this as being a great compliment to, and acknowledgement of, the honesty of the ticket seller but would you run your business like that? If that were to be the basis of trade I would expect that an administration fee would be a valid charge which would be added to the commission.
I can recount a story that took place some years ago in New Zealand. My wife and I arrived at our hotel late in the evening. As my wife had never been to Rotorua I decided to try and get on a tour despite it being outside normal hours. I picked a name out of their phone book because the ad was very inviting. To my surprise the booking was readily accepted. The bigger surprise came early next morning. We were picked up in a gleaming four wheel drive and greeted by a smiling young Maori driver and we were the only passengers. Morning tea consisted of a great home baked cake and a superb lunch was provided in silver service style at a sparkling farm house. The waitresses were two young and delightful Maori girls. Our fare was just the advertised price. Yet the value of what was included far exceeded that very reasonable charge. All that epitomised the meaning of service and client satisfaction.
They certainly had two very impressed and satisfied customers by the end of the day. They also benefited by adding to their business by our many referrals.
The difference is like chalk and cheese. So perhaps what our industry is suffering from is a collection of people who are just not suited to be part of a high profile people industry.
I am reasonably sure that by now there are mutterings that this column is supposed to deal with the Internet yet so far there has not been a whiff of that. But dear reader it actually has a lot to do with it. All the operators spoken about do run web sites. And like almost all such sites consist of pages packed with superlatives lauding their business in their endeavour to encourage people to book because, after all, they are the brightest and best.
And therein lies not just a problem but a real danger to any business that uses the Internet to promote their enterprise. Indeed that is true of any advertising medium used. The danger is that what is advertised on the web site, given the above examples, does not exist in reality. With our very litigious society it will not be long before matters would most probably be brought to the attention of our several watch dogs that have jurisdiction over these sins. Not only have these people mislead the public but have also breached contract law.
The consequences can be severe