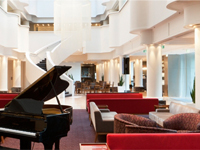 Melbourne's premier conferencing and events hotel will celebrate a changing of the guard as The Sebel Albert Park Melbourne rebrands to Pullman Melbourne Albert Park and undergoes a multi-million dollar refurbishment.
The adjoining Citigate hotel will rebrand to Mercure, the third in Melbourne CBD.
As part of the hotel's dramatic transformation, the lobby of the Pullman and Mercure Melbourne Albert Park will be completely redesigned, as will parts of the hotel's conference facilities, while the 169-guestrooms in the Pullman tower will receive a sophisticated makeover.
Taking advantage of the hotel's grand entrance, the lobby will be transformed into a luxurious and contemporary space with new reception pods adding to the modernised check-in experience. New floors will be laid while a striking lighting feature around the imposing atrium and spiral staircase will add to the sense of arrival. New sofas, arm chairs, tables and designer rugs will help fill the space and the new look lobby will be one of the most appealing in Melbourne.
As part of the hotel's extensive upgrade, the new business centre and connectivity lounge where guests can enjoy complimentary wifi and business services will further add to the new Pullman experience and will be located just off the lobby. Designed to meet the demands of guests on the go, the business centre and connectivity lounge will be available for all to enjoy.
The hotel's ballroom which can hold up to 1600 people has already completed its extensive renovation and as part of the refurbishment, the ballroom has had new LED colour control lighting & pin-spot technology installed, new curtains, operable walls, new carpets and all of the bathrooms have been completely redesigned.
A warm and inviting space will await guests of the Pullman Executive Lounge, a hallmark of every Pullman hotel. Tailored towards the business traveller and guests who seek the complete Pullman experience, the Lounge will be converted into a luxurious space which will be furnished with tables and chairs, plush sofas, arm chairs and LED TVs. New carpet and wallpaper will also feature and a marble food and drink buffet station will ensure a memorable experience.
All of the guestrooms in the Pullman tower will receive a complete makeover that will see bedrooms and bathrooms completely redesigned. A rich colour palette of gold, red and charcoal will be highlighted by intricate lighting features, contemporary mirrors and wall art, giving the rooms an instant lift. Glass work tables, lounge chairs, ottomans and new wardrobes will add to the luxurious new look.
All of the bathrooms will be re-tiled with new bathtubs and showers, vanities, taps and basins installed. Corridors will also receive new carpets, wallpaper and new signage which will brighten up the floors.