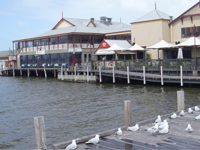 Amazingly the City of Perth council's planning department has rejected a much-needed luxury hotel saying its 11 storeys excessively tall.
The proposed hotel would have 230 rooms, four restaurants, two bars and would be 45.6m high. But city planners have recommended the council's planning committee reject the Old Perth Port P/L application for the five-star hotel in Elizabeth Quay because of its size.
This is despite the state government's Elizabeth Quay guidelines allowing a maximum 20 storeys west of Barrack Square and 30 storeys around the project's inlet.
The planners said the hotel's height would diminish the Bell Tower's prominence.
Future Perth chairman and urban planner Sean Morrison said an 11-storey hotel was needed in a city desperate for hotel rooms and where a major development next door was for 30-plus storeys.
Australian Hotels Association WA chief executive Bradley Woods said, "The key numbers have to stack up and if building heights are slashed dramatically, the development may not be viable," he said.