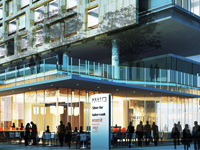 The world's first Next hotel starts life today [15 April] in Brisbane.
Chifley at Lennons is being redeveloped by SilverNeedle Hospitality and Hutchinson Builders will start construction work on the $35 million revamp today.
SilverNeedle CEO Iqbal Jumabhoy said, " Choosing Brisbane as the location for their new flagship hotel brand was an easy decision.
"Brisbane continues to experience a high level of growth. Our investment will help Brisbane realise its future vision to meet the increased demand from its business base, which is driven in part from its proximity to resource opportunities that in turn will generate greater numbers of business travellers."
The number of rooms will increase from 154 rooms to 300.
The Next brand has been developed with the needs of the business traveller in mind. It will embrace contemporary design with a focus on efficiency from point of booking through to final departure. Inspired by the modern business traveller, Next Hotels has been created to deliver a unique, holistic and memorable hospitality experience that is designed to make guest's time count.
Next Brisbane to be completed ahead of the G20 Leaders Summit in November 2014.
A second Next is already planned for Sri Lanka.