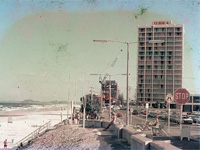 One of the Gold Coast landmark high rises faces the demolition hammer as early as next month.
The 41-year-old Iluka was one of Australia's pioneering management rights properties.
Receivers Ernst & Young took control of the building after Suncorp was owed more than the price buyers were willing to pay for the building following the collapse of a company linked to former owner Jim Raptis.
In 2007, the 16-storey, 72-apartment building was gutted to be knocked down to make way for Raptis Group's new $750 million, 57-level highrise proposal