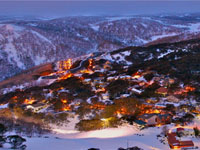 The Victorian government passed changes agreeing to a land swap between the Falls Creek resort and the Alpine National Park – 10ha of the national park is to be included in the Falls Creek resort and 12ha from the resort becomes part of the national park.
The Falls Creek Alpine Resort Management Board is accountable for the development, promotion, management, and use of Falls Creek's 1535ha and operates under the Alpine Resorts (Management) Act.
The day-to-day running of Falls Creek is undertaken by Falls Creek Resort Management. Resort management's role includes elements beyond those normally expected of a local government or government agency in that it is expected to promote, manage, use, and develop the Falls Creek resort. This includes representing the owner (the government on behalf of Victorians) and commercially managing the head lease on public land. Falls Creek Resort Management reports to the board of Falls Creek Alpine Resort Management appointed by the Victorian state minister for the environment.
|
Commenting on the land swap, MP for Eastern Victoria, Phillip Davis, says the national park is getting unspoiled land in exchange for an area that has been heavily disturbed. In return, he says the land acquired by the resort will help it develop a high-altitude training camp and expand its green season offerings.
"So we've ended up with a position which means that the alpine resort can better utilise its resources for green season, that is spring, autumn and summer activities outside the ski season, which will help the best utilisation of the resort," he said.
Falls Creek Resort has a wide variety of accommodation properties including Quay West Resort & Spa Falls Creek, Karelia Alpine Lodge, Bright Avenue Motor Inn, Riverbank Park Motel and Mt Beauty Motor Inn.