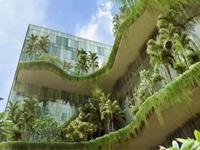 Bartech has announced the installation of its ethernet-connected, energy-efficient automatic minibars in all 367 guestrooms of the new Parkroyal on Pickering in Singapore.
The hotel, which debuted in January, is the newest hotel in the Parkroyal Hotels & Resorts portfolio. Parkroyal on Pickering boasts 15,000m² of lofty sky gardens, along with an exclusive rooftop that offers 360° views of the Singapore skyline for club room guests.
As a proud recipient of the BCA Green Mark Platinum Award, the management team at Parkroyal on Pickering selects all hotel systems and products based on their superior environmental friendliness and sustainable qualities. Bartech automatic minibars feature the proprietary Computerised Energy Saving System technology that monitors and adjusts cooling production according to guestroom status, hotel occupancy, nonpeak hours and other criteria. This innovative technology feature helps hotels reduce their energy consumption tremendously. Bartech supplies real glass doors filled in with Argon gas that improves the minibars' energy efficiency.
"Bartech's track record of generating extra revenue while enhancing guest satisfaction makes the solution the choice of an increasing number of hotel operators in Asia Pacific," says Jan Strijker, managing director of Bartech Automatic Systems in Singapore. "Combined with Bartech's impressive green features — a critical point in a hotel's environmentally friendly ethos — this makes it an easy choice. Bartech works closely with the hotel's design teams to maximise the position of the minibars and make them blend with the décor. Bartech offers an array of customisable automatic minibars that are designed to maximise revenue and save hoteliers time and money through increased efficiency. By opting for Bartech automatic minibars, hotels are often able to significantly reduce the number of minibar attendants on staff and simultaneously increase revenue from minibar sales," Mr Strijker says.
Other hotels in the Pan Pacific Hotels Group that have installed Bartech Automatic Minibars are Pan Pacific Hotel Seattle, Pan Pacific Singapore and Parkroyal Melbourne Airport Hotel.
"All Bartech products, including the C32 glass door automatic minibars installed at Parkroyal on Pickering, offer fully bespoke design customisation. Bartech is also the only minibar provider to incorporate three different types of sensor technologies into their advanced product design, including infrared, magnetic and micro-switch. This allows Bartech minibars to use the most effective and reliable technology for each type of product dispensed, maximising reliability and efficiency of the minibar operation and minimising guest disputes."
Image:Parkroyal on Pickering