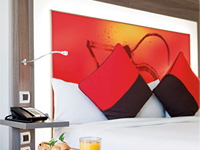 Light is essential for life. It can invigorate the soul and lift the spirit. Good lighting can create a mood, an atmosphere, offer direction and enhance emotions.
Lighting is a design tool and if used effectively it can bring to life even the most mundane of environments.
Accommodation complex lighting was once considered a "must have" and a basic function but now it is recognised as a mood changer; it can put people in a better mood, and what accommodation provider would say no to having happy guests? Lighting is not used to just illuminate, it is also used to: complement artwork, create a specific atmosphere, add colour and provide the finishing touches to individual design features.
Accommodation providers constantly seek to improve their environments, to enhance their guest's experience, the aim of every hotel is for their guests to leave happy and satisfied. A way to achieve that; is to literally see the light, and creatively design your hotel with intelligent use of light fitments.
With great lighting even an ordinary room can look magnificent, can create a fabulous impact and make guests feel welcome, comfortable or re-vitalised.
There are three types of lighting: task, ambient and accent. All three are required to create layers of light and to achieve the desired effects in any area or room.
Task lighting is used in areas for work or safety, consider stairwells or food service areas or to direct to work areas for computer or reading. This can be achieved with fixtures that focus direct bright light onto the desired area.
Ambient lighting is the softer more comfortable level of light for areas where guests would be able to relax.
Accent lighting is used to decorate the room. It creates drama or mood and will draw the guest's attention to a particular area such as an artwork.
Creating perfect lighting should be seen as an art form, consider the challenges of lighting a typical hotel: a large foyer, smaller spaces, computer stations and public space zones. A combination of the three layers of lighting would be required and a keen eye for detail with a lot of imagination by the designer. Bearing in mind that the foyer will be the point of initial contact from a guest, therefore creating a wow impact is essential.
Guests will spend a lot of time in their room and so it is vital that the lighting is just perfect in order to enhance their stay. A common complaint from guests is poor vanity mirror lighting and inadequate reading lights. In order to avoid complaints the bathroom should have general ambient light plus task lighting above the shower or bath for safety and cleaning.
Task lighting should be available for the bedside with a dimming feature and subtle night-light that should guide the way in an unfamiliar environment for the safety of the guests. Mirror and closet lighting are essential for optimum guest comfort and then of course accent lighting to enhance artwork and design features.
Since the first practical uses were developed in the 1960s, light emitting diode has come a long way. Now LED light sources have a much higher and more varied light output, as well as being lower cost and highly energy efficient.
Jonathan Hayward, director of Customlight Engineering, explains that they supply superior quality feature and decorative LED light fitments to the hotel industry throughout Australia and New Zealand.
It is especially proud to have developed, for Accor Hotels, extraordinary customised LED mirror light fitments and bedhead reading lights that have proved to be a huge hit with the chain. The bathroom LED mirror light fitment seems ideally targeted to satisfy every guest request, particularly those aggravating vanity grumbles. The waterproof LED fitment and finest A-grade mirror has a built in heater to clear that exasperating bathroom fog and has an exceptional lifespan (up to 50,000 hours) that ensures consistent and long term illumination.
The custom-made service provided by Cutomlight Engineering is exactly what John Meggitt, regional technical manager for Accor Hotels was looking for as he states, "We have had good feedback from our guests and the bathroom light fitting has been purchased for use in Australia: Customlight Engineering has shown that it understands what the customer requires and that it is possible to produce LED light fittings locally to a cost not exceeding those from offshore."
Customlight Engineering is enthusiastic about making lights and mirrors to meet the individual specifications of their customers, they only use superior fittings and their factory has the technical ability to ensure that all prototypes meet the required Australian standards and specifications. Mr Meggitt says, "Our product represents the quality the hotels are looking for. Our U/L testing and certification is to AS/NZS standards and it is done in a laboratory, not offshore where the validity of some of the guidelines set down for testing may be questioned."
There are many benefits to using LED lighting in hotels: they are long lasting (up to five times longer in most cases). They are durable because they are solid, with no filament so they will hold up well within a busy hotel environment. They are cool, as they do not build up heat and are mercury free. LED lighting is very cost effective, although possibly more expensive to initially purchase than some other alternatives the outlay cost is soon recuperated by providing much more energy efficiency (LED light bulbs only use 2-17 watts of electricity) and lower maintenance costs.
Verbatim, owned by Mitsubishi Chemical Corporation, also specialises in high quality LED and organic light emitting diode technology. It prides itself on maintaining their rigorous quality control measure across all LED products. On its website it claims that LED is the future of light: "The lighting market is constantly changing, LEDs and OLEDs are now positioned to replace classic lighting in residential and professional spaces."
Verbatim uses innovative violet chip technology that emits a spectrum of light more closely, related to sunshine called "natural vision LED".
The development of "tunable lighting" has a broad range of applications in hospitality, by being able to use the same light fixture to create task lighting when needed but then to change to warm mood lighting when a more relaxed atmosphere is sought.
Paul Johnson the general manager of Verbatim Australia confirms that, "OLED technology is world leading and can be used to create atmospheric lighting without hot spots, glare or uncomfortable intensity. The latest series of Velve OLED modules from Verbatim is ideal for mood lighting."
Mr Johnson also explains that LED is perfect for use in the hospitality industry for three main reasons: the significant energy savings that can be achieved by just substituting an incandescent 75 watt bulb to a Verbatim Classic A10 watt lamp results in a saving of 65 watts! Ultra long life of LED means reduced maintenance as lamps last between 20,000 and 35,000 hours; and finally, LED produces excellent colour clarity with no harmful chemicals or UV/infrared emissions.
Energy costs are a huge financial outgoing for accommodation providers and lighting has an estimated 20% slice of energy usage. By replacing lights with more cost effective LED options and by cleverly using natural light sources a significant reduction in energy costs can be achieved.
Since 2010, Verbatim has been introducing a growing portfolio of high performance LED lamps to the lighting market. To address market requirements for LED lamps that more closely approximate the characteristics of halogen lighting, Verbatim is about to launch a new range of products that with a combination of high performance light output, beam characteristics and energy efficiency that should replace halogen light sources. This is exciting news for lighting designers, with mass production likely to start in 2013.
Good use of lighting together with a good interior design is the perfect way to lift a hotel to another level of comfort and aesthetic. Lighting quality is without doubt something to define a hotel and therefore define the level of guest satisfaction.
Investing in new lighting is a fairly inexpensive way to improve the design of a hotel. Jonathan Haywood from Customlight Engineering makes the point that LED was originally adopted by the commercial sector and was therefore more expensive but over time the technology has evolved so that now, although LEDs remain marginally more expensive, the cost can be recouped over time in energy and replacement savings.
So whether you wish to create a fabulous design effect within a building or cut energy costs; the use of LED in your establishment should be a top consideration. Remember the potential lighting has to bring a hotel to life, guarantee the comfort and satisfaction of guests, and the potential to increase the value of your hotel should be enough of a reason to embrace all that LED lighting technology has to offer. The future of LED is indeed set to brighten up the hospitality industry.