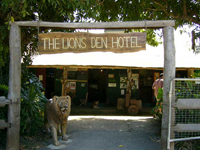 One of Tropical North Queensland's best known and most historic hotels, the 125 year old The Lion's Den, is on the market.
Situated on the Bloomfield Track, The Lion's Den is 65km north of Cape Tribulation and 28km south of Cooktown.
First licensed in 1888, it is being offered for sale by Resort Brokers Australia for $2.45 million plus stock at value.
Built at the junction of the intersection of Mungumby Creek and the Little Annan River to service the booming tin and gold mining trade of the time, The Lion's Den is one of the oldest registered, continuously operating hotels in Queensland still in its original building. It features a bar, commercial kitchen, accommodation for 48 guests and a 2ha camping ground with an overnight capacity of 200.
Resort Brokers Australia's Shane Mullins said The Lion's Den Hotel was a "must see" icon of Far North Queensland that provided a relaxed, family friendly environment with consistently high standards of food and beverage service.
He said there was also an opportunity to build higher value accommodation which could be the next chapter of significant financial growth for the hotel. A two bedroom owner's lodge and a two bedroom manager's unit form part of the property.
Net profit for the 2012-13 financial year was $465,000 on turnover of $1.6 million.
It is an established stopover for the caravan, camping, four wheel drive and motorbike market and is popular with adventure tour groups and coach tours.
The hotel gets its name from a nearby tin mine after a stowaway named Daniel was seen standing in the mouth of the tunnel by the mine owner who christened him Daniel in the Lions Den. The name took and both the mine and the hotel became known as The Lion's Den.