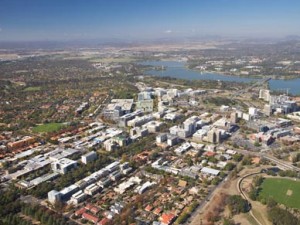 Canberra is to get two more hotels in developments just announced.
A 180-room hotel will be built at Canberra Airport to help attract international flights to the capital. The airport management will develop and own the building but will lease out to a national operator for management, according to airport managing director Stephen Byron.
He said, "We are looking for a striking design and the hotel is expected to open for Floriade in 2015. It is expected to create 160 jobs and inject more than $8 million a year into the ACT economy.
It would have a four to 4½ star rating and include conference, restaurant and bar facilities plus a small gym.
"It will be only seven or eight minutes from the Parliamentary Triangle, less than 10 minutes from Civic, so it's a great location for accessing the major tourist attractions.
"The design of the hotel will be modern and in keeping with the exceptional architectural quality of the terminal and adjoining Brindabella Business Park," he said.
ACT tourism minister Andrew Barr said the construction of a hotel at the Canberra Airport was great news for tourism in the Canberra region. "This new accommodation facility will provide important additional capacity for both leisure and business travel, particularly during peak visitation periods," he said.
Mr Barr said the development of the hotel linked with the efforts of the ACT government and Canberra Airport management to secure direct international flight services for Canberra.
Meanwhile, the Canberra Labor Club has announced plans to build an 11-storey hotel, expected to cost $35 million, on the corner of Cameron Ave and Chandler St. Once approved it is an estimated to take 18 months to build.
Two existing blocks owned by CLC would need to be demolished for the development to proceed.
An operator for the hotel has not been finalised. The CLC said a development application could be lodged by the end of the year.
Purdon and Associates director Robert Purden, who has presented the plans on behalf of the Canberra Labor Club, said there was demand for a hotel in this location and it would diversify the club's business.
The two new hotels will complement other new accommodation establishments in the ACT that include the Abode Apartment Hotel in Woden and Hotel Hotel in NewActon.