Developments
New concept in Port Douglas to rival Melbourne food scene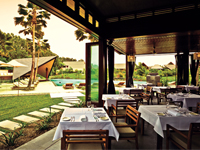 A change of restaurant operators at the five star Niramaya Villas and Spa in Port Douglas will see Southeast Asian inspired Rasa Restaurant and Lounge start turning heads from 9 November.
'Rasa' in Indonesian translates back to taste, sense, feeling and flavor.
The restaurant will be operated by three partners – Andrew Saville, Jared Jones and Louise St George – collaborating together with extensive experience in all areas of hospitality, from the kitchen and customer service to function and event management.
The team says their vision is to provide a refined dining experience inspired by flavours of Thailand, Bali, Malaysia, Indonesia, Sri Lanka, China and Japan.
"The concept of Asian fusion food has been at the top of the culinary scene the past few years and continues to be a leading concept throughout major capital cities," Andrew says.
"Restaurants with similar concepts to ours can be found in Southeast Asian countries such as Bali or in Australia's trendy food hubs in Melbourne or Sydney.
"This Port-Douglas-first will provide locals with flavours they will love, and provide the region with a new culinary experience that will appeal to a different demographic of tourists.
Andrew says they'll be drawing on authentic and street-food inspired fare while incorporating western techniques to produce visually outstanding, flavour and texturally balanced dishes.
"As an example, we could make Tom Yum Consommé' by taking a traditional hot and sour Thai soup then refining it through French clarification techniques of egg whites," Andrew says.
"This produces a highly aromatic soup with prefect clarity and cleanliness on the palate and adapting the ingredients to heighten the senses of taste, smell, colour and texture.
"Quite simply, we'll be using the existing flavours and composites of cultural food and refining the flavours and textures with modern techniques."
Jared says food can be more than just a meal; it can be evocative, emotional, thought provoking and satisfying to all of the senses.
"Our vision is to deconstruct classic dishes and altering the structure of molecules to manipulate different textures to food ingredients," Jared says.
"We'll be experimenting with the chemistry of foods tweaked with modern techniques such as molecular gastronomy, for example turning fats into powders/soils or liquids into gels and pearls.
"We are moving away from traditional dining courses towards Tapas style dishes to share, complimented by popular cocktails with a twist."
Rasa Restaurant and Lounge will be open to locals for all day lounge menu and bar from 11-5pm and for dinner from 6-9pm from Saturday 9 November.
All dishes will be of a 5 star premium quality with a high focus on regional and local produce where ever possible.
The new operators have extensive backgrounds in catering for events, and are fully equipped to cater for all functions, including the busy Christmas party period.