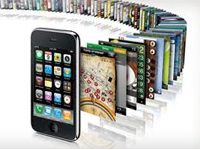 As accommodation professionals and hotel operators were just starting to get a handle on how to effectively engage with their customers on the plethora of social media platforms available, mobile apps have added a whole new dimension to the mix.
In the accommodation and hotel space the app market is vast and the opportunities even more so. The question is what is so special about mobile apps, and why should operators be embracing them?
Statistics show that over 800 apps per second are downloaded globally from the Apple App Store and, according to Wikipedia, there are more mobile devices in Australia than people. Apps have the unique ability to extend an operator's services direct to the customer's hand held device once a booking or enquiry has been made. By being right in the hand of the customer, an operator can focus on ensuring guest satisfaction while at the same time strengthen their presence in the competitive and fast moving accommodation and tourism space. Hotel operators need to embrace the technology, not resist it. The benefits are there for those who do.
Imagine being able to provide guests with the ability to book tours and transfers, auto-dial the local cab company, as well as notify the front desk of their arrival as they approach the hotel, all from their smart phone or tablet. There are apps available that do just that. This type of customisable experience is all the buzz of the tourism sector at the moment, as customer expectations continue to deepen, keeping pace with today's rapid improvements in technology. Implementing the right app or engaging with the right app platform could pay dividends.
One of the largest, multi-awarded resorts on the Gold Coast, Turtle Beach Resort, subscribed and integrated one such app to their customer experience, called Hotelapp. The response has been positive, with both guest engagement and customer satisfaction key performance indicators showing signs of improvement. "We have jumped on board with Hotelapp, and it has been a good investment for us," Stephen West, Turtle Beach Resort's executive general manager explained.
The key benefit of delivering targeted content through apps and engaging direct with customers is the reduced reliance on marketing companies, saving a small fortune for direct marketing services that come inbuilt within these types of apps. It is important that operators understand their goals when bringing apps into their marketing arsenal and research which apps out there can help them reach those goals effectively and efficiently. The productivity, business and utilities categories available in the various app stores are a great starting place to search for useful apps, and suit all kinds of businesses.
Instead of sitting back and thinking apps are just a fad, accommodation professionals need to take the time to consider this powerful and valuable avenue for distributing their content. As mobile devices continue to grow in popularity, and as customers expect a more personal experience from their interactions with operators, the time to jump on the app bandwagon has well and truly arrived.
Don't miss it.