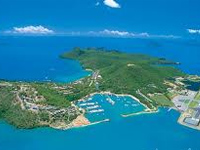 Archers Body Corporate Management is calling for change to the out-of-date corporate structures on Hamilton Island.
Owners and investors expressed their desire for change at a free seminar held on Hamilton Island earlier this month with world-renowned Mystrata property lawyer Gary Bugden.
Managing director Colin Archer said the out-of-date constitutions on Hamilton Island were overdue for an overhaul to bring them into line with current mainland strata laws. "Due to the lease hold title on Hamilton Island, schemes aren't able to be set up under strata title and need to operate under a company title system," Mr Archer said.
"This can cause implications for managers and owners because under this structure they can face issues enforcing house rules or by-laws and imposing maintenance costs among other things. There have been a few cases recently of sales falling through because of a lack of buyer confidence in the structures."
Mystrata executive chairman and property lawyer Gary Bugden said modernising the legal structure was essential to maintain investor confidence and preserve the market value of Hamilton Island properties.
"Hamilton Island has valuable real estate therefore people want to do due diligence before they buy and that's where the problems are starting to occur," Mr Bugden said.
"Essentially, what we are dealing with is a lot of buildings that are run as company title schemes where the companies were set up 20-30 years ago. At that time, the constitutions of those companies were not set up properly and are now out of date because the laws have changed.
"In order to be in line with current strata title structures, the constitutions need to be modernised.