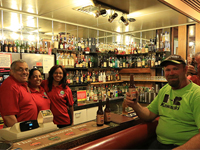 Touched by the sight of hundreds of exhausted volunteer fire-fighters giving their all on our behalf, NSW motel owner Chandra Singh and Trade Exchange Network BBX have combined their resources to donate $30,000 worth of free accommodation to the Rural Fire Service.
Mr Singh, who owns and operates three motels in NSW including Marlborough Motor Inn in Cooma, Best Western Zebra Motel in Coffs Harbour and Best Western Coachman's Inn in Eden, is offering 100 accommodation vouchers to volunteer fire-fighters to be used across his three motels. Fire-fighters have been allocated two night stays to be used anytime within the next two years (subject to availability), totalling 200 nights of free accommodation overall.
"It's great to be able to help in some way," said motel owner Mr Singh.
"We see first-hand on a daily basis how much difference a break away from the pressures and stress of life, and in this case, fire-fighting, can make."
"The fire-fighters are shattered after all they've done to fight these massive fire storms, and then they have to go back to work! We would really love to give them a rest and a huge thank you for all they've done. It's the least we can do," Mr Singh explained.
"We're so proud of our firies and we're happy to be able to provide a break for them. They sure deserve it."