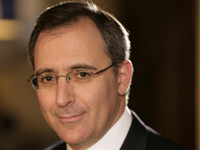 "Fast-growing Internet companies such as Airbnb should be subject to the same regulations as traditional firms," the chief executive of InterContinental Hotels Group has said.
Richard Solomons claimed there is a "slight naivety" about online businesses and governments should treat Internet firms – many of which are developing into global powerhouses – in "exactly the same way" as traditional companies.
In an exclusive interview with Nathalie Thomas in The Telegraph in London, Mr Solomons said, "Traditional hotel firms, which are often far bigger employers than Internet ventures, are currently at a disadvantage."
The hotels chief cited the accommodation website Airbnb, whose financial backers include the Hollywood actor Ashton Kutcher, as one example where online firms were subject to different rules. The website, which allows people to rent out spare rooms to visitors, was "an interesting concept", he said. "But what about fire and life safety, what about food safety, what about security issues, what about cleanliness – all those things that we [hoteliers] are required to keep to a standard? What about paying tax?
"If you are paying somebody for a service and that service is sold as a major operation, it's becoming a big business then why would different standards apply? Governance and regulation needs to treat online businesses the same way as existing businesses so that existing businesses are not put at a disadvantage."
Mr Solomons made his points in an interview with The Telegraph ahead of the World Economic Forum in Davos next week, where IHG will launch its latest industry trends report.
A spokesman for Airbnb said, "The vast majority of Airbnb hosts are regular people who occasionally rent out only the home in which they live. They receive tax forms and we remind them of their obligations to review local laws and regulations. In studies across the United States and Europe it's been demonstrated that Airbnb brings tourists to areas of cities not well catered for by hotels."
Image: Richard Solomons