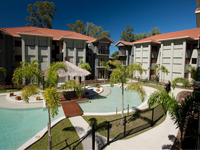 Profiles
Clifton Views Apartments & Riverview Apartments: Two views are better than one
Alison and Grant Pheasant are lucky enough to manage both the stunningly luxurious Cairns coastal community, Clifton Views Apartments as well as the residential resort Riverview Apartments, located in Townsville.
Pretty good for the small country town couple who find the most pleasure in the satisfaction of their tenants. Alison and Grant find the subtle and communicative approach to management achieves the best outcome. With Clifton View's 550 tenant headcount, long waiting list and rave reviews, it's hard to argue with them.
But is this large number of Clifton Views occupants down to Alison's marketing background? Actually, she prefers to let the four-year-old Glencorp developed apartment complex speak for itself.
Clifton Views is the largest non-holiday letting residential complex in Queensland, spanning over 12ha of prime coastal land. Sitting a comfortable two-minute walk away from the beautiful Clifton Beach and a 15-minute walk from Palm Cove. It is "word of mouth" that sells both properties. With many vacated residents even returning after six months "because where they moved to was not as good". Alison and Grant bask in customer satisfaction, without any renovations, redevelopments or changes required.
That is not to say that Grant and Alison take it easy; "Grant is an electrician and can fix almost anything! This is a very handy skill in management rights. He had his own company in Sydney for 15 years – Strut Re-Gas – that his father founded. Grant is constantly using his skills as a handyman to make sure both apartment complexes are performing at the highest standard.
Alison has a marketing and training background; she worked at Wyndham Resorts on the Gold Coast for five years as the owner services/education manager before going into management rights. This excellent resort experience gave her the skills and knowledge she needed to help give both of their properties an aesthetically marketable appeal and a "real community feel".
But what is the secret to a 'real community feel'? According to the managers, the residents at Clifton Views are encouraged to use the residents' lounge for a range of social activities including get-togethers, meditation classes, art exhibitions and children's parties. The resort-style grounds are also home to "unsurpassed recreational facilities that are scattered throughout the grounds including multiple pools, shaded BBQ areas, a fully equipped gym, a tennis court and a children's playground". But it's not just the facilities that make the residents enjoy where they live, the managers are often "complimented on the gardens and the cleanliness of the complex," which is a result of "working hard for our owners to achieve the best financial returns they can on their investment properties."
The true secret to managing this complex is "understanding all personalities" and "finding the 'right mix' of residents for high density living".
This is all part of Grant and Alison's mantra of balance. They found that "when living on-site and working on-site you really need to find that balance," which, admittedly, only came after the formidable gamble of "starting both complexes from scratch". The success of the two properties was only measurable after Grant and Alison figured out how to "set [their] own procedures, grow [their] rental pools considerably and build a very good working relationship with both the body corporate committees and owners of the apartments." A process that she says "takes a lot of hard work!"
Alison and Grant owned Riverview Apartments – seven year old property with a growing 250 residents – for two years before acquiring Clifton Views. A popular choice for "a lot of military personnel", the complex has a grand and beautiful 45m pool right in its centre, as well as "walking/bike tracks and family friendly parks close by". Riverview was Alison and Grant's first experience in management rights, and gave them the experience and the courage to take on the larger Cairns property.
That's not to say it's all been smooth sailing for the NSW couple. The Pheasants have had their fair share of unruly tenants and unusual situations, remarking "Gee where do we start!" The main advice they would give to other managers is to, "thoroughly do reference checks on new tenants" and have had a few interesting stories involving residents who refuse to pay rent. "I don't have to pay my rent I know the owner!" they often excuse themselves with, or barter: "My father's sister's son is a cleaner they will do a professional clean for us!" The more impatient guests will call the after-hours emergency number, only to ask: "could you please tell my neighbour to turn their TV down?"
Another important word of advice they'd like to share is "to make sure that your residents know when they can contact you, reminding everyone of your office hours and that the after-hours number is for emergencies only!" Alison also exasperatedly recounts times where she found glass and alcohol in usually pristine pool areas – the only two things not allowed in the pool areas.
It's the stressful times like this, she says, that it's important to find time to relax. Management rights are all about balance, and often the best solution is to "find the right relief people to look after your property for a weekend getaway or a well-deserved holiday".
Choosing the right tenants, to the Pheasants, has been a "learning curve" and in this business you eventually learn to "understand all personalities [because] common sense does not come easy to some." This can also involve setting fair boundaries and "finding the 'right mix' of residents for high density living. Communication is essential to all residents and owners on a regular basis." An example of this communication, Alison says, is "doing monthly newsletters to all residents at both complexes and updates throughout the year to all owners."
These values are what Clifton Views and Riverview holds in highest esteem. Alison specifically thanks their business partners and their active participation in the management of the increasingly large Cairns and Townsville properties: "They have helped us learn the business and are always there for advice and support."
While the success of the stunning Clifton Views and Riverview apartments is partly due to the picturesque location and high quality on-site facilities, there is no replacement for a management team that can boast 25 years of synergy with one another.