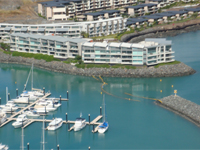 Profiles
Peninsula Airlie Beach: Managers share the secret of their success
Airlie Beach is one of those holiday destination gems that offers serene tranquility and picturesque aesthetic beauty.
Located on Whisper Bay and standing boldly on a prized piece of land the very shape of a dolphin's dorsal fin, the Peninsula Airlie Beach juts out into the Coral Sea onto the Abel Point Marina. You would think that the beautiful location would be a manager's main selling point, but a five star rating and TripAdvisor Travellers' Choice Awards in 2012 and 2013 means John and Sandy Hanrahan have truly gone the extra mile.
But what could John and Sandy possibly offer aside from breathtaking views of the marina out to Hook, Hayman and Whitsunday Islands?
According to Sandy, each apartment is "self contained and self catering – guests have the choice to either prepare their own meals and dine on their balconies or dine at the many restaurants."
The large 114-roomed multi level resort has a beautiful tropical pool and landscaped gardens. The 42 two, three and four bedroom apartments are stylish and modern and all apartments come complete with a marina berth which is offered free of charge if guests bring their own boat or jetski to take advantage of the beautiful Whitsundays.
This exclusive gated community certainly helps guests feel safe and secure.
Front office manager, Dorothy points out that on TripAdvisor "one of the best compliments we can ever receive would have to be previous guests returning back to The Peninsula to enjoy more of what we offer and supporting us" adding that "we pride ourselves to have the most luxurious surroundings and beautifully furnished apartments on mainland Whitsundays".
But what are the guests saying? They couldn't be happier, with 85% of reviewers on TripAdvisor giving five star ratings, one enthusiastic reviewer even raving, "It's my favourite accommodation ever!"
Differentiating themselves from other properties in the area was a priority for the Brisbane couple and essential when ensuring their tenants' happiness.
Taking advantage of the location, John and Sandy introduced a "wedding ceremony pavilion that is proving very popular with brides and grooms. This overlooks the Coral Sea with spectacular views at sunset". They've also recently added solar heating to the swimming pool and say that "solar energy will be up and running for its power supply shortly," this will minimise their carbon footprint and give back to the beautiful environment that graces the spectacular Whitsundays.
One of the senior contributors to TripAdvisor said, "The view from the large balcony over the Marina was superb. The pool was great. We received friendly and helpful advice on arrival and throughout our stay." even commenting on the apartments convenient location; five minutes from the Abel Point Marina where most of the activities and tours depart from.
These activities are what keep the tourists coming. While staying in Peninsula Airlie beach, guests can cruise the Whitsundays or explore the Great Barrier Reef.
It's only a "15 minute flat walk into Airlie Beach where there are many and varied restaurants, eateries and shopping" and for those craving something artistic, Airlie Beach boasts live music every night!
But it's not just the guests that require pleasing; it's the owners as well.
The Peninsula Airlie beach was built by Watpac and developed by the Seymour Group; completed in December 2006 with their first guest arriving three months later.
The Brisbane couple was enthusiastic to begin their management rights, with one having roots in the tourism industry and another from an engineering management background, it seemed like the perfect fit. Sandy says "keeping the property
full with guests is certainly a challenge but keeping all the owners happy is more of a challenge."
This is a challenge they decided to tackle head on, with one of their biggest achievements being, "reducing the insurance premium by over 50k that, in turn, reduces the levies to our owners."
It's this kind of extra effort that is a learning curve to management rights, especially "the complexity of owners and their varying needs and wants."
So what is their secret? According to Sandy, there is no secret. It's all about "the day-to-day challenges – not one day is the same as another." For the Hanrahans, it's all about the little things that brighten up people's days. Like the "two water softener plants [that] will be installed." It's all about offering guests whatever you can and responding to their needs and wants.
Dorothy often addresses comments on TripAdvisor, noting that "we can use this information to improve our ways of servicing our apartments and ensure future guests have the most memorable and pleasant stay at The Peninsula" It's through this kind online communication and fast acting self improvement that keeps the Peninsula ahead of the curve.
Being up front and not secretive, it seems, is their biggest secret.
The Peninsula Airlie Beach, it seems, is not just a pretty face, it has all the facilities, cleanliness and service of a five star hotel in an apartment complex, coupled with the absolute waterfront views, marina and town access, and beauty of a five star environment.