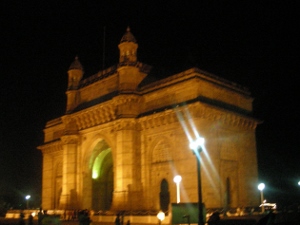 Philips has unveiled a stunning lighting makeover of the historic Gateway of India in Mumbai.
The lighting is based around a new LED system, providing a palette of 16 million colours that can be computer-programmed to create inspiring light shows. The new lighting at one of Mumbai's most striking monuments will provide eye-catching displays to the 5.1 million foreign tourists who visit each year, in addition to further boosting its image as a symbol of the city for the 12 million residents.
The Gateway of India project is an example of city branding in practice – one of 12 key trends identified by PSFK Labs in its recent 'Future of Light' report. Brett Renfer, Senior Technologist at the architecture and design organization Rockwell Group explains this trend, "As cities are looking at the ways their skylines and different areas look at night, they're looking to lighting to transform and shift people around. It's a great way for cities to be seen from this huge scale, like 'we're active, we're on, and we're excited about what's happening'."
The Gateway of India is the latest world-renowned site to be transformed by Philips. Other iconic city landmarks to have been lit up include: the Bay Bridge in San Francisco; the Empire State Building in the USA; the Bosphorus Bridge in Istanbul, which links Asia and Europe; the Montparnasse Tower in Paris; the Dragon Bridge in Danang, Vietnam; India Gate in New Delhi; and the London Eye.