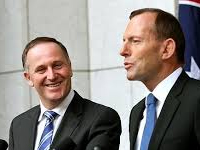 Once again Australian prime minister Tony Abbott and New Zealand prime minister John Key have met and discussed easing of border controls between the two countries.
Once again there was plenty of rhetoric but little sign of action.
After a meeting on Friday [7 February] the prime ministers underlined the importance of ensuring that travel across the Tasman is as seamless and trouble-free as possible. Rather than bring back passport-free travel across the Tasman, the "action" is limited to Australia being encouraged to expand the SmartGates network for arrivals since eligible New Zealand and Australian citizens can use SmartGates in New Zealand for both arrivals and departures.
Yet for a sporting event the barriers to freer transTasman travel were easily overcome to allow international visitors attending the Cricket World Cup in 2015 to apply for one visa only that allows entry to both Australia and New Zealand.
"We are family. We are, by accidents of history, two countries, but we are family and increasingly, we are one economy," Mr Abbott told journalists at press conference after the meeting.
Over two million Australians and New Zealanders travel between the two countries every year. Tourism groups on both sides of the Tasman had hoped the governments would not confine their efforts to World Cup cricket fans when it came to easing travel barriers.
While the cricket decision was welcomed by both Tourism & Transport Forum Australia and Tourism Industry Association New Zealand, there was disappointment that the two PMs did not go further.
TTF chief executive Ken Morrison said he hoped it was a precursor to further liberalisation of trans-Tasman travel. "We already have a close relationship with New Zealand and reducing the barriers to travel between our two countries would serve to further deepen those bonds.
"Next year is also the centenary of the Anzac landings at Gallipoli and we believe an agreement to further streamline trans-Tasman travel would be an ideal way to commemorate that important anniversary."
Mr Morrison said streamlining the requirements for travel would be mutually beneficial. He said creating a domestic-like traveller experience, including automated outbound checks and direct exit lanes for inbound biosecurity, would ease the experience.
The countries could introduce a lightweight border agency model at regional airports and create common visitor visas to stimulate transTasman travel by Asian visitors required to get individual visas for each country.
TTF would also like the passenger movement charge cut to $25 for transTasman travel from the current $55 for all overseas travel.