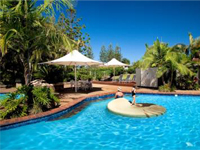 Rhett and Joy Bowen have sold their interest in the management of Nautilus Beachfront Villas and Spas at Coffs Harbour after 40 years to Ian Ponton.
Rhett Bowen's father and uncle Bart and Max Bowen sold their interest in the Gardens Motel to buy Pacific Lodge in 1971 upgrading the existing accommodation and operating it as Bowen's Beach Village.
The first five villas of the Nautilus Beach Resort, designed by Bart Bowen and financed by Max Bowen, were completed in 1981. In 1985 Bart Bowen sold his share of the resort; the trading name was changed to Nautilus On The Beach and Craig Bowen, the son of Max Bowen, took over management of the resort and oversaw its development for the next 10 years to 77 rooms.
In 1995 Rydges Hotels took over management, while ownership remained with the Bowen family.
All villas and units became individually owned under strata title, with the Bowens acting as service providers for the owners, looking after common areas and maintenance, handling holiday and full-time rentals and management for absentee owners and the buying and selling of properties.
The Bowens recently sold the service agreement and their own apartment to former Forster businessman Ian Ponton.