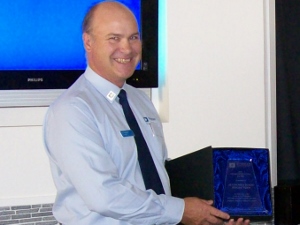 Hobart's only beachside resort, Wyndham Vacation Resorts Seven Mile Beach has been acknowledged as the favourite destination for holiday-makers in the South Pacific's biggest timeshare group.
The Tasmanian timeshare resort, which is part of Wyndham Vacation Resorts Asia Pacific's resort portfolio has won the company's Owner Satisfaction Award for 2013 taking top honours for overall resort experience, resort staff, check-in, apartment satisfaction and grounds.
The award was based on survey feedback from timeshare owners in the WorldMark South Pacific Club by Wyndham. There are more than 47,000 timeshare owners in the WorldMark South Pacific Club and of the club's 24 South Pacific resorts that took part in the survey, Wyndham Seven Mile Beach received the highest honour.
Wyndham Seven Mile Beach resort manager, Kim Millington said, "Over 14,000 vacation owners and their guests holidayed at Wyndham Seven Mile Beach in 2013, which according to research on average spend, equates to an injection of approximately $7.3 million into the local economy," Mr Millington said.
"On average, timeshare tourists tend to spend more than regular tourists because they don't have to factor the cost of accommodation into their holiday budget," said Mr Millington.
The resort is situated opposite Hobart's Seven Mile Beach. It boasts eco-friendly, spacious self-contained one, two and three-bedroom apartments plus Presidential and Grand Suites along with world-class facilities and customer service.