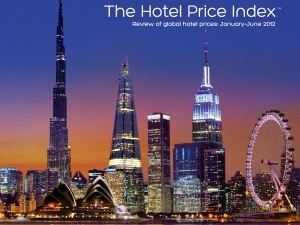 The average price of a hotel room around the world rose 3 per cent during 2013, according to the latest The Hotels.com Hotel Price Index.
This means there have now been four years of steady rises in hotel prices since the substantial falls during the financial collapse of 2008/9. Set at 100 in 2004, the HPI tracks real prices that hotel guests actually paid for their accommodation around the world. The HPI for 2013 stands at 110, seven points lower than its peak in 2007 despite the recent growth, and just ten points higher than at its launch.
Latin America registered its strongest result yet, following a 5 per cent increase in hotel prices, and has now overtaken its previous peak set just before the global economic downturn.
With reports stating that emerging markets are showing solid economic growth, prices rose as demand intensified. Johan Svanstrom, president of the Hotels.com brand, said: "According to UNWTO (the United Nations World Tourism Organisation), international tourist arrivals in 2013 grew by 5 per cent to a record global figure of 1087 million, well above expectations. The growth in global hotel prices we are reporting today reflects that trend. "There is no doubt that European hotel prices were some of the most badly affected by the economic fallout. However, most indicators now show that the economic squeeze is easing, if not yet completely over.
"Looking ahead, one phenomenon impacting global hotel prices in 2014 is the huge rise in the number of sports fans travelling this year, with the Sochi Olympics and Paralympics in February and March and the FIFA World Cup in Brazil in the summer," he added. Higher occupancy levels recorded in many areas helped the North American HPI climb three per cent, matching the global rise.
The Pacific region was level. Softer domestic corporate travel in Western Australia, coupled with the drop in value of the Australian dollar towards the end of the year, had a dampening effect on the overall average. Conversely, the HPI in Asia fell by 2 per cent, which was good news for inbound travellers to the region as it continues to offer some of the world's best value hotel accommodation. The depreciation of the yen, rupee and rupiah, coupled with a decrease in inbound visitors to China contributed to this result, although outbound travel from China remains buoyant.
But, in another review, hotels are poised to see healthy growth in 2014, according to data from the February 2014 TravelClick North American Hospitality Review. Both the transient (individual business and leisure travelers) as well as the group segment are seeing gains in occupancy and ADR for the next 12 months, which sets the stage for solid RevPAR growth this year.
"TravelClick hotel booking data shows that for the next 12 months hotels can expect more guests at higher room rates," said Tim Hart, executive vice president, business intelligence, TravelClick. "Although growth in 2013 was dominated by the transient segment, the encouraging pace of group as well as continued transient strength indicates a more balanced outlook for 2014."
For the next 12 months (February 2014 – January 2015), overall committed occupancy is up 4.2 per cent when compared with the same time last year. ADR are up 3.2 per cent based on reservations currently on the books.
Transient bookings are up 5.7 per cent year-over-year and ADR for this segment is up 4.7 per cent. When broken down further, the transient leisure (discount, qualified and wholesale) segment is showing occupancy gains of 5.9 per cent and ADR gains of 5.4 per cent. The transient business (negotiated and retail) segment is up 4.8 per cent with an ADR increase of 4.0 per cent.
A third review saw hotels in the Asia Pacific region registered drops in the three key performance measures during January 2014 when reported in US dollars, according to data compiled by STR Global.
The region's occupancy for January fell 3.6 per cent to 62.1 per cent; its average daily rate dropped 1.9 per cent to US$125.75; and its revenue per available room decreased 5.4per cent to USD 78.03. Performance rose in Australia but plunged in Thailand, which has been racked with ongoing demonstrations and civil unrest.
"Performance in the Asia Pacific region is showing vastly different trends compared with the other world regions," said Elizabeth Winkle, managing director of STR Global.
"There has not been a lot of positive news coming out of the region, and that is reflected in hotel performance in January. Australia and Oceania was the only sub-region to report positive occupancy growth (+3.0 per cent to 72.6 per cent).
Auckland, New Zealand, increased 3.8 per cent to US$116.54 in ADR, reporting the largest increase in that metric. Auckland achieved the largest RevPAR growth, increasing 7.7 per cent to US$ 88.23.