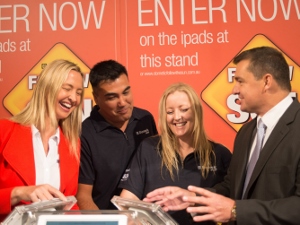 The Follow the Sun bandwagon is cruising into the NSW Supershow this month to give all Sydneysiders their last chance to become the face of Follow the Sun and an ambassador for domestic travel in Australia.
Three ambassadors from across the country will be chosen with each receiving a makeover of up to $25,000 for their existing vehicle and a 12-week, expenses paid trip across the country! From the 26 April, the Follow the Sun entourage will be at the NSW Caravan, Camping, RV & Holiday Supershow, where visitors can check out the latest gadgetry in the world of camping and caravanning, and enter the Follow the Sun campaign.
As part of the campaign, three chosen couples or families will embark on three separate journeys, hosting happy hours across the country and sharing stories with fellow caravanners and campers along the way. Olympic swim star, host of travel TV show Discover Downunder and Follow the Sun ambassador, Brooke Hanson will be making surprise visits along the routes too and joining in on the celebrations.
With the hunt almost over and entries closing on 11 May – this is the last chance to get in on the action. Despite entries being at a record high compared to previous years, there is still a great chance the winner could be you!
Brooke Hanson says, "Camping holidays are more popular than ever, with campervan registration numbers increasing by more than 20 per cent in the past five years alone. Domestic travellers inject more than $51 billion dollars into the national economy last year.