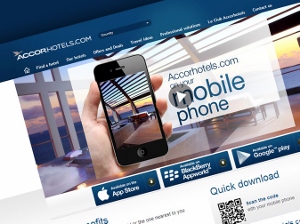 Accor has announced the worldwide implementation of a digital solution that is designed to revolutionise guest welcome in its hotels.
The objective is simple: use digital technology to offer customers an unprecedented personalised welcome. Guest welcome is less devoted to administrative formalities, making the hotelier entirely available to greet guests, cater for their individual needs or simply help them save time.
Accor's four steps for a simpler, more personalised hotel welcome
Two days before their hotel stay: Guests are invited to prepare their check-in online if they have booked directly with Accor or if they are loyalty card or subscription card holders.
On the arrival day: Guests receive a welcome message by SMS, confirming that their room and key are ready and offering very useful practical information to simplify their trip (transport services to the hotel, car park access codes, etc.).
When guests arrive in the hotel: Their key has been prepared and is handed over immediately without the usual administrative formalities. The hotelier is even more available to greet guests and cater for their requests.
On the departure day: Guests can leave rapidly. To check out, they simply have to hand in their key to indicate that their room has been vacated. The invoice is sent to them by email.
This digital service, which was designed in close collaboration with the hotel operating teams, will be offered to all loyalty card or subscription card holders and to customers booking directly through Accor via: accorhotels.com, the brand websites, mobile applications, or by phone directly with the hotel, etc.
This welcoming is to be deployed across all Accor brands and will be adapted by each brand to fit its service offering, depending on their segment, market positioning and establishments' specificities.
This new system has been tested in approximately twenty establishments in France, the United Kingdom, Italy, Belgium and the Netherlands. It is now deployed in 60 hotels in 13 countries. The ambition is to roll out this solution in 1000 hotels, or close to 30 per cent of the network, by the end of 2014.
Brazil will boast the largest number of equipped hotels, since the service will be offered in nearly all the establishments in most of the cities hosting football world cup matches as of June 2014.
With the massive deployment of this digital solution Accor is providing an online service that is consistent with new consumer habits. Over two billion people currently have a smartphone and 47 per cent of travel searches are made from mobile phones, making them the preferred device for finding, preparing and organising a trip.
"This innovation focusses on giving our guests a warm, personalised welcome and on saving time thanks to new technologies. The first feedback from hotels already equipped with the system is very encouraging since more than 90 per cent of guests who used this service say they are willing to do so again. Queues are diminishing and hoteliers are more available for their guests. They can devote themselves completely to their passion, the job of host." explains Christine Pouletty, the project's manager.